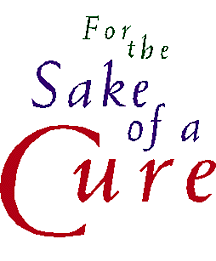 by Will Morton
As 53-year-old Russ Ewan sits in the exam room to have his blood drawn, he keeps the conversation light, tempering it with a few jokes, or comments about the weather and his drive from Spokane.
He smiles as he pockets the $15 he gets each time he comes to the UW's Clinical Research Center (CRC). "A patient getting paid by a doctor! You don't see that very often, do you?" he quips.
In the waiting room, the atmosphere is similarly relaxed. Patients sit quietly, reading magazines and staring out the seventh floor window, perhaps tuning in to the familiar hush of the hospital. RNs pop in and out, calling their names and leading them down the hall.
On the surface there is little to distinguish the CRC from any other clinic in the medical center.
Yet here, in seven rooms on the seventh floor in the south wing of the University of Washington Medical Center, is where patients are receiving some of the world's newest potential treatments for their diseases. Ewan is part of an experiment to combat hepatitis C.
The CRC has been a source of hope since it opened in 1960. That year, Dr. E. Donnall Thomas performed the world's first bone marrow transplant that resulted in the long-term survival of the patient. Thomas won the 1990 Nobel Prize for medicine for his pioneering bone marrow work at the UW and the Fred Hutchinson Cancer Research Center.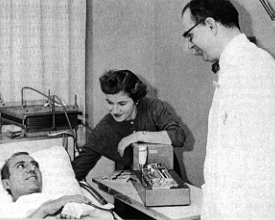 ---
Dr. Belding Scribner (right) pioneered the use of dialysis for patients suffering from kidney disease by inventing a shunt that could be hooked up to a dialysis machine at the CRC. Photo courtesy of UW School of Medicine.
---
On March 9, 1960, a team of UW physicians and engineers led by Dr. Belding H. Scribner implanted a Teflon tube in a man dying of chronic kidney failure, paving the way for long-term kidney dialysis. The patient lived another 11 years; long-term kidney dialysis has saved hundreds of thousands of lives since. As soon as the center opened, Scribner used it as a testing ground.
Since its inception, the center has seen more than 900 major research projects involving approximately 2,500 investigators from a variety of disciplines at the UW. About 5,000 patients volunteer for experiments each year.
Much of this research involves new drugs or new ways to deliver existing drugs. To ensure a new drug or treatment is safe and effective, the federal government breaks clinical trials into three phases. Phase I trials try to determine the maximum safe dose of an experimental drug or treatment; phase II trials are designed to confirm that safety and effectiveness.
Phase III trials attempt to prove the safety and effectiveness of the new treatment by comparing it to a conventional one. These trials, which the U.S. Food and Drug Administration uses to determine whether to approve a new drug, involve hundreds of patients at research centers across the country, and last for months, sometimes years.
It takes years for a drug to make it from a phase I trial to FDA approval. For example, doctors had success treating advanced kidney cancer with Interleukin-2 approximately seven years before the drug was approved by the FDA.
Connie Castle: Humor is a Part of Healing
Christy Nelson: Empowerment Against Unbeatable Odds
Russ Ewan: Can Hepatitis C Be Beaten?
Kristin Thueringer: Courage in a Child's Eyes
The CRC Experience: Professional and Caring
Send a letter to the editor at columns@u.washington.edu.