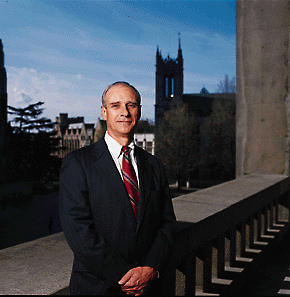 Ron Crockett is well known as the man who brought live horse racing back to western Washington. On a typical day, you'll find him at Emerald Downs racetrack in Auburn. But each week he also spends five or six hours at the University of Washington, serving on volunteer committees, mentoring students, or cheering Husky sports teams.

"Ron has great ideas, and he has a way of figuring out what will make those ideas work," says UW Athletics Director Barbara Hedges. She's not the only person on campus who benefits from his advice. In addition to serving on the Tyee Board of Advisors and helping to raise funds for athletics, Crockett volunteers for the business school, where he helped develop the Program in Engineering and Manufacturing Management as well as the Program in Entrepreneurship and Innovation. His past volunteer roles include serving for six years on the UW Foundation Board of Directors and chairing the Foundation during 1994-95, when private support reached a then-record $127.8 million.

For his dedication to the University, Crockett will receive the 1997 UW Alumni Association Recognition Award.

Crockett, who graduated with a B.S. in mechanical engineering in 1962, initially stayed connected to the UW as alumni advisor to his fraternity (Phi Gamma Delta). He still loves meeting students, and has been a mentor for athletes and business students. These interests are reflected in his gifts to the UW. He has donated more than $1 million for endowed scholarships in business and engineering, to support programs he's involved with, and for new athletic facilities.

When asked why he supports the University, Crockett goes back to his student days when he received the Thomas McCurdy Scholarship. "I worked during college, but that scholarship certainly made my life a lot easier," he says. "My favorite thing to do for the University always ties back to scholarships, helping someone who would not otherwise have the dollars to complete their education." He does that, and a lot more.--Antoinette Wills, UW Office of Development

Return to "Best of 1997" Title Page

Send a letter to the editor at columns@u.washington.edu.