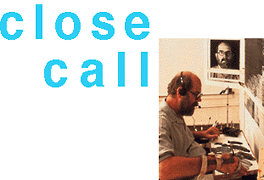 When he left the UW for Yale in 1962, Close changed his style completely, dumping abstract paintings based on de Kooning in favor or "photorealist" portraits. He turned his back on abstraction in favor of photorealism because he wanted to "find his own voice" and not continue to do work similar to that of his UW mentor, Art Professor Alden Mason. It was a dramatic break: Photorealism is a painting style resembling photography in its close attention to detail, the opposite of abstract expressionism.
His work began to be shown in important New York galleries and at the Whitney Museum of American Art in the late 1960s. In the early 1970s, he was exhibiting in prestigious international exhibitions. By 1980, he was widely recognized as an important figure in contemporary American art. Today, publications surveying contemporary art history routinely discuss his painting and most modern art museums in the U.S. and Western Europe feature his work in their collections.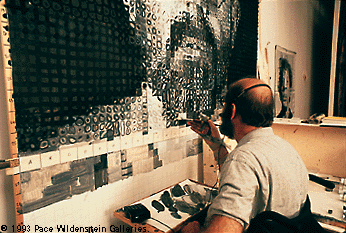 ---
Chuck Close at work on his 1993 self-portrait. Photo by John Reuter.
---
He achieved his international reputation by demonstrating that a very traditional art form, portrait painting, could be resurrected as a challenging form of contemporary expression. His work has been superficially described as photo realist, "but is more revealingly positioned with the development of minimalism and process art of the 1960s and 1970s," says Christopher Ozubko, director of the UW School of Art.
Close's large, iconic portraits are generated from a system of marking which involves painstaking replication of the dot system of the mechanical printing process. The portraits he produces--utterly frontal, mural-size, and centered in shallow space--replicate the veracity of a photograph and undermine the objectivity of photography at the same time, critics say.
In the early days, though, his work was the complete opposite of realism. Upon his arrival at the UW from Everett Community College--which back in the 1950s was a feeder for the UW art program--he was influenced heavily by the now-retired Mason. They used to get thick paint by the gallon from a special dealer in Oakland, and churned out lots of abstract works. "It was the opposite of the precise work he is best known for," says Mason. "We just glopped on tons of paint and followed the influence of de Kooning and other New York painters of the time. The brushwork then took a lot of energy, was emotional, hard work, full of anxiety and trauma because it was all improvisational. You had no idea what was going to turn out.
"He had talent and did nice work, but I had no idea he would turn out to be one of the great painters of our time."
Close's big break came when he went to Yale, first for the summer between his junior and senior years and then again for grad school. There, in search of his own voice, he says he "did all I could to put distance" from his earlier abstract work. So he flipped 180 degrees and started making photo realist works. He used exacting grids from huge, large-frame Polaroid pictures of his models, then recreated the image on canvas in color. It was a process he called "knitting." He painted his friends, his family, himself, all in huge pieces that could cover an entire wall. His works depicted intense close-ups and details, every flaw on every patch of skin, mouth, nasal cavity. His famous 1968 self portrait shows him shirtless, hair askew, a smoldering cigarette off to one side of his mouth, a less than thrilled expression on his face.
His first large-format figurative painting was "Big Nude" (1967-68). Measuring 10 by 22 feet, she was too long to fit into Close's studio unless her feet were folded. She was attractive without being exceptional, naked rather than nude, complete with stretch marks, tan lines, and pores. The model's visible flaws were the marks of her personal distinction and Close's candor. "I was trying to be very flat-footed and effect this translation (of a photograph) and not editorialize and not crank anything up for greater effect," Close says. "But unconsciously, I couldn't help but do it."
Life as a UW Student: Bald at 20
On the Edge of Death--and Rebirth

Return to the Beginning of "Close Call"
Chuck Close's Gallery and Contact Information
Send a letter to the editor at columns@u.washington.edu.