DEPARTED
Chris Gobrecht, who built the UW women's basketball program into a Pac-10 power, resigned April 10 to become head coach at Florida State. Gobrecht, 41, had a 243-89 record (.732 winning percentage) in 11 years with the Huskies, and led the UW to nine NCAA tournaments. She came to UW in 1985 after six years at Cal State Fullerton. The Huskies went 16-13 last season and didn't make the NCAA tournament.
HONORED
Medical School Dean Philip J. Fialkow received the Mayo Soley Award from the Western Society for Clinical Investigation in February for his "original and important contributions" to research in the genetic features of human tumors, especially those associated with leukemia. The society also honored Medicine Professor Mark Kay with its Young Investigator Award, noting his research in the use of gene therapy techniques in the liver, seeking ways to cure hemophilia.
College of Education Dean Allen Glenn was one of four recipients of the 1996 Pomeroy Award given by the American Association of Colleges for Teacher Education in February. This year the association decided to honor the deans of those institutions which have made outstanding efforts to reform teacher education. Over the past two years, the UW has launched an innovative, five-quarter master's degree in teacher education program.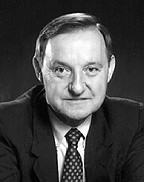 Accounting Professor Gerhard Mueller has been named to the Financial Accounting Standards Board, the independent organization that establishes the standards for financial accounting and reporting for U.S. businesses and non-profits. "This is a remarkable and well-deserved honor for Gerry," says Business Dean William Bradford. "Only two other academics--one from Stanford and the other from Cornell--have ever been selected by the board, and I know that other candidates for this board position included some of this country's most prominent accounting faculty."
Family Medicine Professor Roger Rosenblatt received the 1996 Curtis Hames Award from the Society of Teachers of Family Medicine in April. The honor is widely regarded as the country's most prestigious award in family medicine research. Rosenblatt is best known for his studies of rural health care and how family medicine is practiced.
RANKED
U.S. News and World Report ranked the UW and Harvard medical schools as the best in the country in its annual survey of graduate and professional schools dated March 18. For the third consecutive year, the UW School of Medicine was ranked the best primary-care medical school in the nation. Harvard was named the best research-oriented medical school. In the research category the UW ranked 11th. Among teaching disciplines, the UW ranked first in family and rural medicine, third in women's health care and fifth in pediatrics. The school is celebrating its 50th anniversary this year.
Send a letter to the editor at columns@u.washington.edu.