Gifts are being sought to create a memorial on the UW campus in Seattle honoring students, faculty, staff and alumni who fought and died in World War II. The Classes of 1944, 1945 and 1946 have taken the lead in establishing a World War II Memorial fund. As part of their 50-year reunion, which was held in 1995, they have contributed almost $20,000 as their class gift.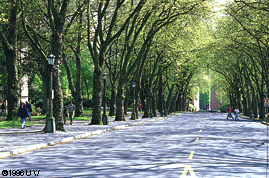 ---
These trees along Memorial Way were planted in honor of alumni and faculty who died in World War I. Now the campus is planning a World War II memorial. Photo by Mary Levin.
---
The site proposed for the memorial is at the southern end of Memorial Way, in the area around the flagpole near Parrington Hall. Memorial Way, which begins at the 17th Avenue N.E. entrance to campus, is lined by 58 sycamore trees planted in honor of the UW students and faculty who died in World War I.
The nature of a World War II memorial will depend on how much money can be raised for the project. Preliminary discussions underway with the cooperation of the University have focused on redesigning the landscaping around the flagpole and putting up one or more memorial markers. If sufficient funds are not raised, gifts will be used to establish a World War II Memorial Scholarship.
"We would like to encourage all UW alumni whose family members or friends served in the war to help honor those sacrifices through the World War II Memorial fund," says Brewster Denny, '45, who chairs the gift committee.
To make a gift, you may send a check payable to the University of Washington Foundation to: World War II Memorial, University of Washington Foundation, Office of Development, 1200 Fifth Ave., Suite 500, Seattle, WA 98101-1116. For more information, call Kay Larson at the UW Alumni Association at (206) 685-9274 or 1-800-AUW-ALUM or send her e-mail at kaylars@u.washington.edu.
Send a letter to the editor at columns@u.washington.edu.