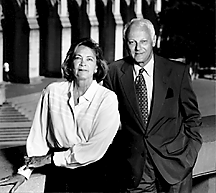 More than a million dollars has been given or pledged to honor William and Ruth Gerberding's 16 years of service to the University of Washington and the community. The gifts, which come from individuals, corporations, and foundations, will create three endowed funds named for the Gerberdings: a University-wide professorship, a graduate fellowship and a scholarship for minority and economically disadvantaged undergraduates in the Educational Opportunity Program.
The gifts were announced by UW Regent Paul Skinner at a community celebration honoring the Gerberdings on April 5. Attending were political and community leaders, major donors to the University, current and past members of the Board of Regents, and other friends and colleagues of President and Mrs. Gerberding.
The celebration included a reception at the Four Seasons Olympic Hotel and performances at the Fifth Avenue Theater by faculty and students from UW drama, music and dance programs, as well as members of the Seattle Symphony. The Husky Marching Band escorted celebrants from the hotel to the theater, where Gerard Schwarz, music director of the Seattle Symphony, and Speight Jenkins, general director of Seattle Opera, were masters of ceremonies. Underwriting support for the event was provided by Bill and Melinda Gates.
"These generous gifts combine to create a wonderfully appropriate and lasting tribute to Bill and Ruth Gerberding," says Marilyn Dunn, UW vice president for development. "The endowments will benefit faculty and students throughout the University, and we are very grateful to the donors."
A campus celebration honoring the Gerberdings took place on June 1 in "Red Square."
Send a letter to the editor at columns@u.washington.edu.