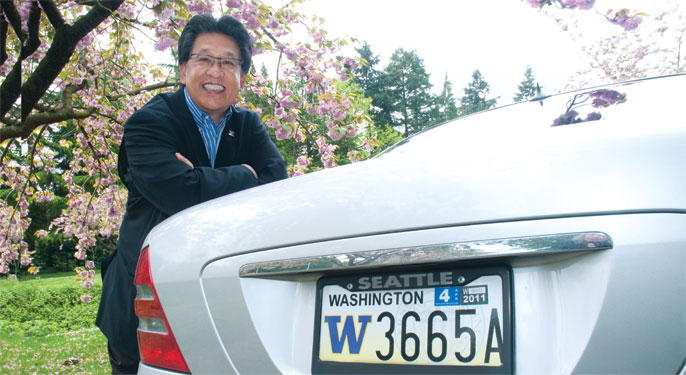 UWAA President Eddie Pasatiempo steps up to the plate in support of higher education.
Photo by Mary Levin
New UWAA Gift to Grads Will Drive Scholarships
In this year of opportunity and accomplishment, the University of Washington reaffirmed the impact and significance of a strong and supportive UW Alumni Association. Our history demonstrates that a vibrant and dynamic alumni community is important to the UW. It's been my honor to serve as your president, and I'm pleased to see that our association is in excellent hands with Colleen Fukui-Sketchley, '94, taking over as board president in August.
This past March, my wife and I joined more than 40 years of UWAA volunteer presidents at Hill-crest, home to UW presidents since 1931, in recognition of a half-century of UWAA support for students. It was an evening we will never forget. Walking the grounds of Hill-crest and meeting new friends, I was reminded again of the values our association embodies. We all were students once, and the University of Washington truly is educating the leaders of tomorrow.
As UWAA members, your support for students is clear. In keeping with the UWAA's outstanding tradition of alumni giving back, we are providing a special gift to graduating seniors and covering one year of UW affinity license plate fees, a value of nearly $50. By choosing to have a UW license plate, alumni agree to support student scholarships with every year's renewal. We encourage all alumni to drive with pride and get an official UW license plate. For more information on the UWAA's special offer to graduating seniors and to get yours today, visit UWalum.com/NewGradPlates.
As the UW looks forward to new leadership, the alumni association will continue to be a voice for alumni engagement. This month, approximately 13,500 graduates will join our community. They're in fantastic company. Alumnus of the year Bruce Nordstrom, '55 and Distinguished Service Awardees Lex, '59, and Diane Gamble, '59, exemplify what a lifetime of achievement and connection can do for the UW community.
The UWAA is equally proud of President Mark Emmert, '75, who was named head of the NCAA in April. He and wife DeLaine have been exceptional supporters of the UWAA, and we are thrilled to see a UW alumnus ascend to such a significant role. Congratulations to President Emmert and to all of our new graduates. We hope to see each of you at a Husky Summer Celebration event near you!
Sincerely,


E.M. "Eddie" Pasatiempo, '77
President, UW Alumni Association