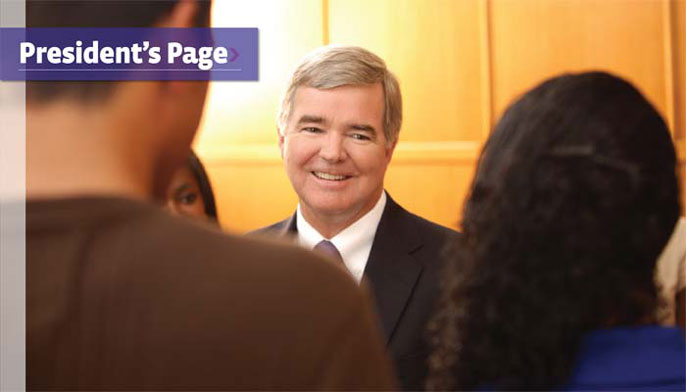 Photo by Dennis Wise
Our Economic Impact on Washington State
By now you have likely heard that I will be leaving the University of Washington this fall to become president of the NCAA. My exit is bittersweet, to say the least. While I'm very excited by this extraordinary opportunity to lead an organization with the NCAA's compelling mission and scope, I'm also very sad to leave a place I love. It has been an honor to serve as president of my alma mater and to work with the remarkable group of people who make up our UW community. In my final President's Page in Columns next September, I will reflect more on my time here. For now, however, I want you to know that I am still on the job as UW president and I remain fully committed to helping the University to move forward during this time. In that vein, I want to take this opportunity to talk about an issue that many people in our state often do not think about: the huge economic impact the UW has on our lives every day.
The UW is a vitally important economic engine for the state of Washington and plays a crucial role in keeping our region competitive in the global economy. Yet many Washingtonians don't realize the full extent of the impact our University has on their own financial well-being and quality of life. To help us analyze the depth and breadth of economic benefits the UW brings to our state and our citizens, we recently enlisted the services of the nationally recognized independent consulting firm Tripp-Umbach. The results of their study surprised even us. Consider these findings:
UW operations have an overall economic impact of $9 billion annually. Almost half of this impact comes from UW Medicine.
UW operations have an overall employment impact of 70,000 full-time jobs in Washington, driving about 2 percent of total state employment.
In the last 10 years, the UW has created more than 7,500 new jobs primarily paid from non-state sources—an increase of 26 percent.
The UW directly and indirectly generates almost $600 million per year in tax revenues for state and local governments. That's about twice what the UW receives each year in state appropriations.
For every $1 of state funds invested in the UW, $22 is returned to the state.
Looking at these numbers, it's clear that the University of Washington is a major contributor to our state's economy in the very same way that Microsoft, Boeing and other major employers are. Much of this impact comes from the ripple effect of our operations.
When most people think about the jobs associated with the University, they think of professors and researchers, or perhaps a health care professional at UW Medicine. As the state's third-largest non-military employer, the UW directly employs a very wide range of positions. Less evident, though not less significant, are the thousands of full-time jobs created outside the University for people who rely indirectly on the UW for their paychecks. These are the men and women supplying the goods and services that the University needs to function—everyone from technological innovators and skilled specialists to office supply salespeople and delivery persons. Probably someone you know.
This year the UW will confer more than 12,000 degrees. About three-quarters of those graduates will stay here in Washington and contribute to our state economy. Their contributions are critically important to the economic vitality of our state. But, as the results from the Tripp-Umbach study indicate, the UW's economic impact reaches far beyond even what our alumni contribute. Across the board, the University of Washington is making a difference in the prosperity and well-being of all our state's citizens.


Mark A. Emmert, '75, President