Ernest I.J. Aguilar, 1919-2010
Latino Trailblazer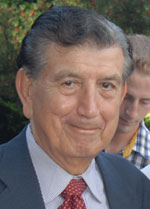 Photo Courtesy OMAD
Ernest I.J. Aguilar, who helped create one of the nation's only endowed scholarships for M.B.A. students of Latin American heritage at the University of Washington, died March 15. He was 90.
Aguilar, who was born in Mexico, was a charter member of the Washington State Commission on Hispanic Affairs. He also was the founding chairman of the board of the Farm Workers' Clinic in Yakima Valley.
Aguilar selflessly dedicated his time and efforts to develop programs that benefitted Latinos and all Washingtonians. He inspired the first-ever Latino scholarship at the UW's Foster School of Business. For his work, he was honored by the state Legislature. He also received the Ohtli Medal, Mexico's highest civilian honor. He is survived by his wife, Clementina, five children, four grandchildren and two great-grandchildren.
Donations in his memory can be made to the Ernest I.J. Aguilar Scholarship Fund, Foster School of Business, University of Washington, Box 353200, Seattle, WA 98195-3200.
Columns Digital Magazine
The UW Alumni Association is proud to announce that Columns is now available as an interactive digital magazine. It's presented using the Issuu viewer so you can browse through it just as you would the printed version. You can zoom in, print pages or share articles by e-mail.
Just click the "Digital magazine" link next to the cover image to start browsing.
Need a little more help? Gets some tips for using the Issuu viewer.