Staying Green and Safe with TarpX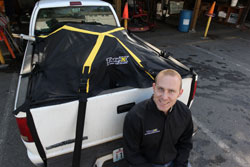 Photo by Anil Kapahi
Dan Kinley, '99, is putting his bachelor's degree from the Foster School of Business to use to make this world a little greener. And a lot safer.
Kinley and two local business partners created TarpX, a new load control system for pickup trucks and small trailers which replaces the ubiquitous blue tarp with bungee cords with an adjustable all-in-one system.
This is significant, because with more than 39 million pickup trucks on the road in the U.S., unsecured loads cause more than 25,000 accidents each year that result in deaths, injuries and property damage. Moreover, debris that fly off the back of pickup trucks can blow into water sources, causing clogged drains, ruining water quality and negatively affecting ecosystems.
Now, the distinctive black tarps with the yellow X can be spotted all over the UW campus: Grounds maintenance uses TarpX on all 18 of its pickup trucks that haul landscape cuttings, dead branches, dug-up shrubs and other yard debris from campus every day. "We care about safety," says UW Grounds Supervisor Clarence Geyen. "And the fact that there is a UW connection makes it even better."
Columns Digital Magazine
The UW Alumni Association is proud to announce that Columns is now available as an interactive digital magazine. It's presented using the Issuu viewer so you can browse through it just as you would the printed version. You can zoom in, print pages or share articles by e-mail.
Just click the "Digital magazine" link next to the cover image to start browsing.
Need a little more help? Gets some tips for using the Issuu viewer.