Huskies Pilot Space Shuttles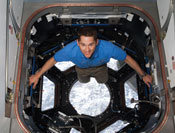 Photo Courtesy of NASA
Two more UW grads have been launched into space. In April, James P. Dutton Jr., '94, (pictured) served as pilot for space shuttle Discovery, which delivered material to the laboratories in the International Space Station. It was his first mission into space.
In May, Dominic "Tony" Antonelli, '02, piloted the crew of space shuttle Atlantis. The flight delivered the Russian-built Mini Research Module to the International Space Station.
In total, 14 UW grads have served as astronauts on NASA space missions.