UW-Designed Tool Finds Buses and Awards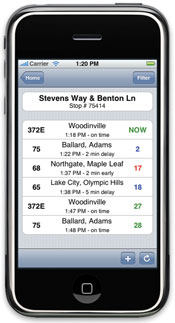 What began as one man's rain-sodden quest to find his bus has become a godsend for countless Metro riders and the 2010 winner of the Washington Technology Industry Associationís award for Best Use of Technology in the Government, Non-profit or Educational Sector.
Launched in the summer of 2008 by grad students Brian Ferris and Kari Watkins, OneBusAway allows transit riders to track down real-time arrival info for their bus, ferry or train by Web, phone, SMS or mobile device. A bus rider might, for example, text her stop and bus number to OneBusAway to find out when her bus is coming, or might plan a trip from work by looking up an arrival time at OneBusAway.org.
Meanwhile, across campus, Computer Science & Engineering grad student Shiri Azenkot is working on mobile apps that integrate with OneBusAway to improve the usability of public transit for blind and deaf-blind riders.
More than 20,000 people use OneBusAway each week to plan their King County Metro, Pierce Transit, Sound Transit and Washington State Ferries trips.