UW-Designed Tool Finds Buses and Awards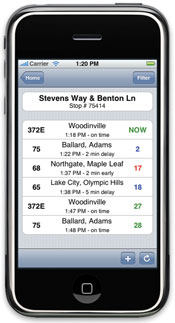 What began as one man's rain-sodden quest to find his bus has become a godsend for countless Metro riders and the 2010 winner of the Washington Technology Industry Associationís award for Best Use of Technology in the Government, Non-profit or Educational Sector.
Launched in the summer of 2008 by grad students Brian Ferris and Kari Watkins, OneBusAway allows transit riders to track down real-time arrival info for their bus, ferry or train by Web, phone, SMS or mobile device. A bus rider might, for example, text her stop and bus number to OneBusAway to find out when her bus is coming, or might plan a trip from work by looking up an arrival time at OneBusAway.org.
Meanwhile, across campus, Computer Science & Engineering grad student Shiri Azenkot is working on mobile apps that integrate with OneBusAway to improve the usability of public transit for blind and deaf-blind riders.
More than 20,000 people use OneBusAway each week to plan their King County Metro, Pierce Transit, Sound Transit and Washington State Ferries trips.
Columns Digital Magazine
The UW Alumni Association is proud to announce that Columns is now available as an interactive digital magazine. It's presented using the Issuu viewer so you can browse through it just as you would the printed version. You can zoom in, print pages or share articles by e-mail.
Just click the "Digital magazine" link next to the cover image to start browsing.
Need a little more help? Gets some tips for using the Issuu viewer.