High-Flying Students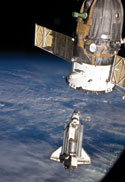 Photo Courtesy of NASA
This June, while testing a prototype of a fuel tank for intergalactic vehicles they designed themselves, five UW students will be catapulted into space and experience zero gravity at NASA's Johnson Space Center.
The five are part of Astro-Dawgs, an eight-student group formed specifically to develop something space-worthy.
The students hope the fuel tank they've designed will minimize fuel slosh and allow pilots to know both how much fuel they have and where it is located at all times. In an anti-gravity situation, fuel tends to coalesce in random places in the tank. Since the fuel may be at the back, bottom, center or top of the tank, fuel pumps often draw in more air than fuel. To solve this, the students have developed a rotating, beveled tank that makes its own gravity, thereby forcing the fuel into a determined and accessible location.
The team came up with the idea for the tank in response to NASA's call for student proposals last year. After settling on their idea, the students submitted a proposal to NASA's Reduced Gravity Student Flight Opportunities program in October and were one of just 14 teamsófrom more than 66 that appliedóchosen to fly.
While aboard an aircraft that will fly approximately 30 roller-coaster like climbs and dips to produce periods of weightlessness and hypergravity ranging from 0 G's to 2 G's, the students will test their tank for effectiveness.