Proving Prevention Works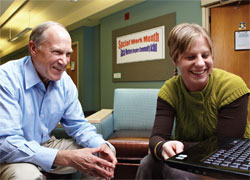 School of Social Work Professor J. David Hawkins discussing research with graduate student Kelly Jewell. David holds the Endowed Professorship in Prevention, established by a lead gift from Ronya Kozmetsky and the late George Kozmetsky, as well as additional donor support.
J. David Hawkins had a hunch. A probation officer on San Juan Island in the early 1970s, he worked with teenagers who were using heroin, robbing stores and committing other crimes. He kept thinking: there must be a way to prevent kids from getting to this point.
Since then, he has worked to find the solution. The Endowed Professor of Prevention in the School of Social Work, David is the founding director of the UW's Social Development Research Group (SDRG), which promotes healthy behaviors and positive social development among young people.
David's passion is not just professional. He and his wife wanted their own children to build strong relationships, steer clear of drugs and violence and contribute to society. "It's what all parents want for their kids," David says. "But how do you know how to raise kids?"
David and fellow social work professor, Richard F. Catalano, now SDRG's director, developed a system called Communities that Care (CtC). It helps community leaders identify problems facing their young people, like underage drinking or bullying, then intervene with tested and proven programs. David led a recent study of 4,000 youth, which found that after three years, eighth graders living in CtC communities were 32 percent less likely to have started drinking alcohol and 25 percent less likely to have engaged in delinquent behavior than peers in control communities. The federal government's Center for Substance Abuse Prevention distributes CtC nationwide.
David now knows it is possible to prevent kids from making bad decisions. "I used to believe it, but couldn't prove it. Now we have evidence."