Expanding the Field: A Remedy for Rural Medicine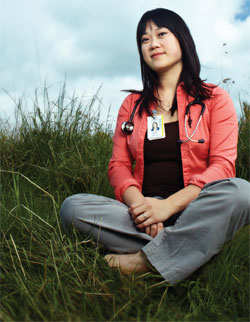 As she hits the books in her third year of medical school, Grace Lim is acutely aware of a troubling paradox: despite the annual crop of new physicians graduating from the UW, there are still areas of Washington State where doctors are in short supply, leaving communities vulnerable. Grace not only knows about this problem, she is helping solve it.
Through the Rural/Underserved Opportunities Program, the UW is providing students like Grace with unique learning experiences in Washington, Wyoming, Alaska, Montana and Idaho that lead to a better understanding of the challenges of practicing medicine where doctors are scarce. During her four-week rotation in the program, Grace worked side-byside with physicians in Port Angeles to address this issue and gain patient care experience.
"Feeding the pipeline of doctors is critical for rural areas, and local young people should be encouraged to think about applying to medical school," said Grace, recipient of the Genevieve Bale Endowed Scholarship. "After all, this is a group that's likely to be drawn back home after college." Motivated by the idea, she developed a 'how to' orientation and mentorship model for local high-school students that includes details about college and medical school admissions, scholarships and peer support. She also provided one-on-one mentoring.
Grace hasn't yet decided what type of medicine she'll practice, but she knows one thing for certain, "I'll be a better doctor because of the unique hands-on experiences that the UW School of Medicine provides."