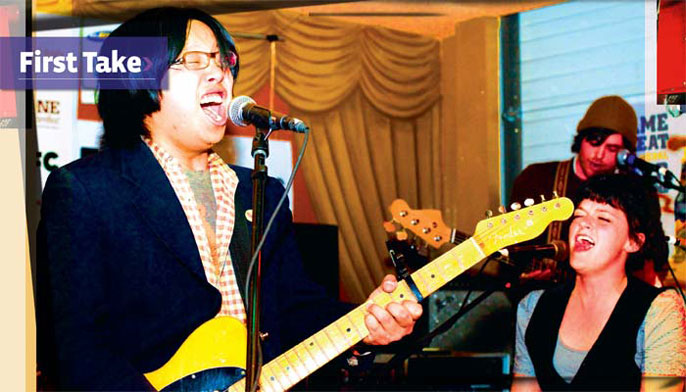 Now in its 23rd year, the annual Austin, Texas music festival South by Southwest remains one of the music industry's premier showcases of up-and-coming artists.
Best known simply as SXSW, each spring the festival attracts hoards of music industry reps and media professionals, along with famous actors and celebrities, thousands of adoring fans and, of course, musicians of all kinds.
This past March, four former University of Washington students, Tomo Nakayama, Jeramy Koepping '00, Alina To '05 and '08 and Joel Harmon '01, had the honor of performing at SXSW as part of Seattle's eight-member orchestral pop band Grand Hallway.
"It was overwhelming," described lead singer and songwriter Tomo Nakayama, who attended UW on and off from 1999 to 2004 before delving into music full time. "It was great exposure for the band."
Grand Hallway played several times during the nearly nonstop five-day festival, playing an official SXSW set at the St. Davis Historic Sanctuary, and also at the SXSW Seattle Party, which showcased Northwest bands. Half the group also played an acoustic set in an Austin coffee shop.
"It was just super fun," described drummer Joel Harmon. "We grew, as a band, a lot tighter."
Harmon's former band, Outside Alcatraz, had a song called "Suzzallo's Basement," which Harmon penned while on campus, inspired by a girlfriend who worked at the UW library.
UW seems to have influenced all four Huskies in lasting way.
Nakayama recalls his years at UW fondly, but it was the people he met there and the exposure to different world views that most influenced him. "It opened my eyes," he said. He also found a music theory course he took at UW handy when writing string sections for Grand Hallway's first album, "Yes is the Answer."
Violinist To is still very much a part of UW, making use of her Master of Arts for Teachers (of English to Speakers of Other Languages) degree by teaching on campus. While completing first her BA in linguistics, '05, and then grad school in '08, To continued taking private violin lessons.
"I think that kind of pushed me," she said. In addition to playing with Grand Hallway, To performs with the Bellevue Philharmonic Orchestra, the Lake Union Civic Orchestra and at various churches in the area. She also teaches violin.
In the pre-Craigslist 1990s, guitarist Koepping put posters up around UW's School of Music to seek out fellow musicians to play with. "I met a lot of players that way," he said.
He also expanded his musical horizons by taking extension courses through UW Educational Outreach, where he learned a lot about world music.
"I'm glad the UW has that extension program," he said.
Harmon feels he is still reaping the benefits of the connections he made while attending the university. He and Nakayama first met through common friends at UW and played in their first band together, Asahi, in about 2000.
"It was a really good experience," he said of being a student at UW. "I probably have more school spirit now than I ever did."
Grand Hallway is currently in songwriting mode, ready to start in on their third album and still consistently booking local venues. The group will also take its show on the road along the West Coast this summer, and perform at the Capitol Hill Block Party.