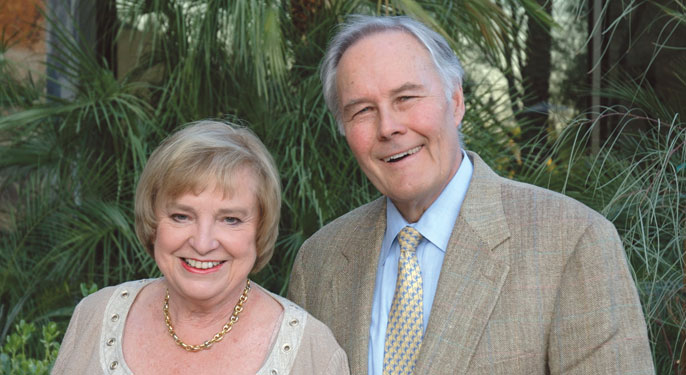 Photo Courtesy of Diane Gamble
Lex and Diane Gamble Receive Top UWAA Honor
When Lex, '59 and Diane Gamble, '59, moved from Seattle to New York in 1962, they brought the University of Washington to their home in Chappaqua by finding other alumni in the area and inviting them over for social events. By the early 1970s, the Gambles had begun flying in salmon from Bellingham and Pike Place Market for their popular summertime barbecues.
"At that time, our event drew people from Washington, D.C., upstate New York and Virginia," Lex recalls. "People would come from up and down the Eastern Seaboard."
"And this was in the age before computers and e-mail," Diane adds. "We would find friends and friends of friends, and call them up on the phone to invite them."
Fifty people came to their first barbecue. Thirty-six years later, the numbers have doubled, and their event is a summer tradition in New York and across the country, as alumni in other geographic chapters such as Denver and Houston have been inspired to host their own salmon barbecues.
This month, the Gambles will host their 37th annual New York Salmon BBQ as part of Husky Summer Celebration. Lex also served as co-chair of his Class of 1959 50-year reunion committee, on which Diane also served, and together they helped raise the highest-ever dollar amount donated to a class gift.
In addition, Lex heads up the acclaimed Dawgs on Wall Street lecture series in New York City, which features prominent alumni speakers in business. The event, now in its fifth year, has featured former REI president and CEO Sally Jewell, '78, and former Starbucks CEO Orin Smith, '65, among others.
Why have the Gambles worked so hard to stay connected to their fellow Huskies? "We just wanted to build our UW ties," Lex says with a laugh. And, say others, the couple didn't want anyone to feel left out.
Katherine Koberg, '75, editor in chief of Seattle Metropolitan magazine, appreciates the approach. "When I was fresh out of UW and living hand-to-mouth on the Upper West Side of Manhattan in the late '70s, there was no greater treat than to attend the annual alumni salmon bake at the Gambles' home in Chappaqua," she says.
To honor their work, the UW Alumni Association is pleased to recognize the Gambles as Distinguished Service Award recipients, the highest honor bestowed upon UWAA volunteers and members.
—Courtney Acitelli