Les Keiter, '41, 1919–2009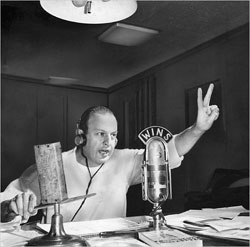 Photo courtesy of WINS.
For three years after the New York Giants moved to San Francisco in 1958, Les Keiter, '41, continued to announce their games from a Manhattan radio studio. Keiter, who died April 14 in Kailua, Hawaii, spent half a century doing play-by-play for college and pro sports, but was best remembered for his stint re-creating Giants games for die-hard fans in New York with the help of a Western Union telegraph ticker, taped crowd noise and a drum stick to simulate base hits. A typical 1959 broadcast attracted 300,000 listeners. "You use all this research and experience to create a broadcast that may not be correct in every detail but is certainly plausible," he wrote in his 1991 autobiography, Fifty Years Behind the Microphone. He was 89.