June 2009 -
The Hub
Huskies in High Places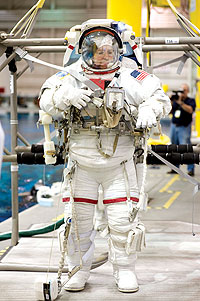 Michael Barratt, '81.
Photo courtesy of NASA.

The sky is not the limit for UW grads. As Columns went to press, two Huskies were in space and a third had just come back. Dominic "Tony" Antonelli, '02, piloted the most recently completed NASA space shuttle mission, and Gregory Johnson, '77, was helming the current one—a scheduled 11-day trip that blasted off May 11. Antonelli helped deliver a pair of power-generating solar-array wings to the International Space Station in March, as pilot of the shuttle Discovery.

Johnson's voyage aboard the Atlantis was to be the final shuttle mission to the Hubble Space Telescope—an effort to extend its capabilities through 2014. (His cargo included a new Hubble camera designed and built in part by Bruce Balick, a UW astronomy professor.) Currently at the International Space Station is Expedition 19, the joint U.S.-Russian mission that brought Michael Barratt, '81, to space in March. Barratt, a medical doctor and one of the mission's two flight engineers, will return to earth in October.