June 2009 -
The Hub
Roll Model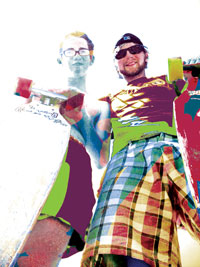 Ben Warner, right, and his friend Mike Hedburg.
Photo courtesy of Ben Warner.

So much for the stereotype of the skateboarding slacker. Ben Warner, a UW Tacoma senior, just rode his longboard clear across the country to raise money for the Boys & Girls Clubs of Puget Sound. Starting in March, Warner and a few friends skated from San Diego, Calif., to Savannah, Ga., stopping to speak at Boys & Girls Clubs along the way.

Growing up with parents who worked full time, Warner says, he found a second home at the clubs. "There are places out there that want you to find your potential," he told the Tacoma News Tribune. He hopes his journey will show kids that place is closer than they think. Visit longboardingamerica.com to learn more about Warner and his trip.