June 2009 -
The Hub
The Arboretum at 75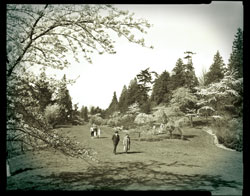 The Washington Park Arboretum in 1957.
Photo by John Vallentyne, from the
Post-Intelligencer Collection, Museum of
History & Industry.

With more than 20,000 trees, shrubs and vines from all over the world spread across 230 acres, the Washington Park Arboretum is doing more than its share to justify Seattle's nickname, the Emerald City. Jointly managed by the UW Botanic Gardens and the City of Seattle, the living plant museum has been a source of education, recreation, beauty and pride since 1934. Here are some of the events planned to celebrate its 75th anniversary this summer and fall:

June 11 An Evening with Amy Stewart
The New York Times best-selling author will discuss her latest book, Wicked Plants: A Book of Botanical Atrocities.

July 18 Picnic in the Arboretum
Celebrate the anniversary with your friends and neighbors.

July 30 Arbor Eatae Summer Garden Party, "Sundaes on Thursday"

Aug. 6 Arbor Eatae Summer Garden Party, "Art in the Park"

Aug. 13 Arbor Eatae Summer Garden Party, "Beer and BBQ"

Aug. 14 and 15 Kayak and Walking Tours of Foster Island

Aug. 20 Arbor Eatae Summer Garden Party, "Soiree Under the Stars"

Oct. 29 Scot Medbury lecture, "The Olmsted Legacy of the Arboretum"

Oct. 31 Halloween Park in the Dark Spooktacular

For more information about these and other events, and to register, visit arboretumfoundation.org.