June 2009 -
The Dream Team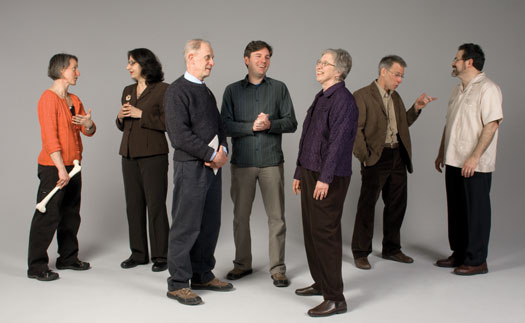 The seven recipients of this year's Distinguished Teaching Awards represent the broadest range of disciplines, from English to maxillofacial surgery. But they all have one thing in common: the ability to hold their students spellbound.
From left to right:
Catrin Pittack
Senior Lecturer, Biological Structure
"I was inspired by Dr. Pittack's passion for human anatomy and often left class in awe of the complexity of its structures."—Student
Dolphine Oda
Professor, Oral and Maxillofacial Surgery
Dental students have voted her "Outstanding Teacher of the Year" 19 times.
John Webster
Associate Professor, English
"I can say with full confidence . that John Webster is the best teacher I have ever met on this campus."—English Dept. Chair
Peter Littig
Assistant Professor, Interdisciplinary Arts and Sciences, UW Bothell
"Taking his class has inspired me to study cloning so we can all have teachers like him."­—Student
Janice Laakso
Associate Professor, Social Work Program, UW Tacoma
"She is one of the finest advocates for social justice I have ever met."­—Student
Steve Herbert
Professor, Geography
"One experiences a sense of . intellectual vertigo as long-held beliefs fizzle under the hot lights of critical examination."—Student
Eugene "Gino" Aisenberg
Assistant Professor, Social Work
"Our course scheduler braces, every quarter that Gino teaches, for a barrage of . pleas from students who feel they 'must' get into his classes."­—Social Work Dean