June 2009 -
At Your Service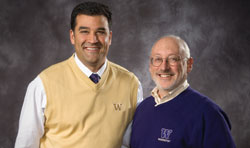 Paul Rucker and Chuck Blumenfeld.
Karen Orders photo

Your Lifetime Warranty
Chuck Blumenfeld has been the consummate UW supporter and UWAA leader, with a wise mind, a winning laugh, and a tireless passion for his alma mater. Thank you, Chuck, for your exemplary service.

As I prepare for the executive director's role, I reflect on the challenges many of us face today, and the unique role the UW has in addressing them. Demand for a college education is at an all-time high, state support for the UW at an all-time low. This year's state budget will mean higher tuition for our students; for the first time in modern history, the University will receive more revenue from its students than it will from the state.

These aren't abstract concerns for me. Like many of you, I earned my UW degrees while working. As an undergraduate, I hustled back and forth between campus and my jobs at QFC and Dunn Lumber. I completed my Evans School degree at night while serving as a community college administrator. I recognize the sacrifices our students make today, and I marvel at their dedication, perseverance and determination to transform the world.

Despite shrinking resources, I find it heartening to see that the University's singular commitment to service and excellence hasn't changed. It's a pledge demonstrated in a hundred different ways-from the Husky Promise, a guarantee of full-tuition support for the students who most need it; to the amazing work UW researchers are doing on everything from climate change to epidemiology to sustainable cities; to the fact that the UW produces more Peace Corps volunteers than any other school. The UW's local roots continue to have global reach.

One of the qualities that first drew me to the alumni association was that it shared this commitment to service and excellence. I saw an organization engaging all members of the University community, delivering outstanding career services, lifelong-learning opportunities and scholarship support to students. In the future, I plan to advance this commitment by making the UWAA even more accessible and responsive, and I want to hear from you about how we're doing. Watch UWalum.com this summer for the debut of my director's blog. It'll be a way of keeping you posted on new developments at the association, offering an alumni perspective on University affairs and-crucially-asking for your feedback. After all, this is your alumni association.

Your UW education was, among other things, a significant investment. Whether you paid tuition or not, you bought it with years of hard work and dedication. Think of the alumni association as your lifetime warranty-an assurance that the UW will continue to be a valued presence in your life, all your life.


Paul Rucker, '95, '02
Executive Director
In Great Hands
As I ride off into the purple sunset, I look back on my 10 years of service to the UW Alumni Association with gratitude, joy and, I must admit, a bit of pride. I've had the opportunity to be part of a great evolutionary process, during which the UWAA has played an increasingly important role on campus and has reached out to serve more alumni than ever before.
I've also had the good fortune of seeing the association from both the volunteer side, serving as president of the board, and the staff side, during my time as executive director. And I can tell you unequivocally that this alumni association is in great hands.
Which leads me to my successor, Paul Rucker-an energetic, innovative and inspiring individual. You will all enjoy getting to know him. He and the UWAA's leadership team will continue to guide us to even bigger and more impressive achievements.
Although I'm retiring, I will continue to take advantage of the opportunities the association provides me to keep connected to our University. I invite you to do the same. Come to a lecture; attend a pre-basketball Jump Start; go on a UW Alumni trip. Join me!


Chuck Blumenfeld, '66, '69
Outgoing Executive Director