Page 4 of 15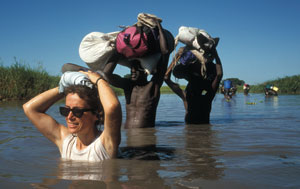 Jill Seaman, '79
Physician Seaman has spent her adult life battling epidemics in Sudan, personally dealing with, by one doctor's estimate, more than 10,000 cases of the deadly parasitic disease kala-azar. She's currently fighting tuberculosis through the Sudan TB Project. Photo by Malcolm Linton.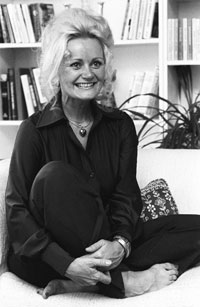 Kitty Kelley, '64
Notorious for her unauthorized biographies of the world's most powerful people, Kelley has written about the Bush family, the British monarchy, Nancy Reagan and Jackie O. Currently, she has her pen aimed at Oprah. Photo by Ira Schwarz.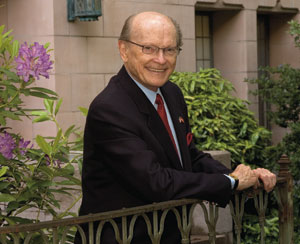 Donald Petersen, '46
One day Petersen, then president and soon to be CEO of the Ford Motor Company, asked some designers if they were proud of that year's models. They said no, and the resulting mandate—Petersen told designers to work only on cars they would be proud to own—led to the development of the Taurus and revived the company. Photo by Mary Levin.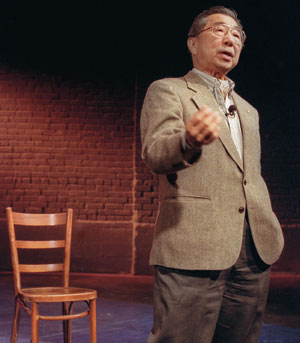 Gordon Hirabayahsi, '46, '49, '52
An American hero, Hirabayashi refused to report to internment camps for Japanese Americans in May 1942. He spent nine months in jail and appealed all the way to the Supreme Court, which affirmed his conviction 9–0 for violating the Army's curfew. In 1987, the Ninth Court of Appeals finally ruled that the government misled the courts in 1942 about the threat of Japanese Americans. Hirabayashi earned a Ph.D. at the UW and had a distinguished career as a sociology professor. Photo by Peter Haley. © 2000 Associated Press / The News Tribune.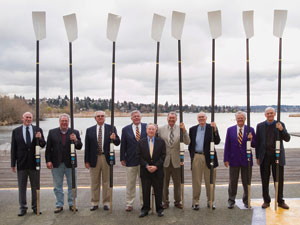 1958 Crew
The 1958 Husky men's crew, stung by a loss to Leningrad Trud's crew at the famous Henley Regatta in England, came back to stun the world champions in Moscow's Khimi Reservoir by 1 3/4 lengths. It was the first American sporting victory in the USSR. Fifty years on, they could still take you to school: From left, John Sayre, '58, Lou Gellermann, '59, Chuck Alm, '58, Phil Kieburtz, '58, coxswain John Bisset, '58, Roger MacDonald, '58, alternate Gene Phillips, '61, Bob Svendsen, '59, and alternate John Fish, '58. Photo by Karen Orders.