Page 1 of 15
What do you, Gov. Gregoire, the guy who wiped out smallpox and the guitarist for Soundgarden have in common? A diploma from the University of Washington, that's what. June 2008 marks the hundredth anniversary of the UW's alumni magazine, and what better way to celebrate it than by turning the spotlight on 100 remarkable UW alums. We put together a selection committee of folks who know the UW backward and forward, past and present, and asked them to help us come up with 100 famous, fascinating or influential living graduates. It was a process filled with delightful discoveries and difficult choices, and the results are an absolute embarrassment—of riches.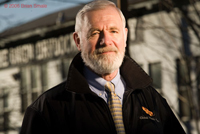 William Foege, '61
In 1972, an esteemed senior fellow at the World Health Organization told Foege, "If you eradicate smallpox from India, I'll eat the tire off your Jeep." No word on how that tire tasted, but by 1979 smallpox was gone not only from India but from the face of the earth. Foege went on to direct the Centers for Disease Control, and is now a senior fellow at the Gates Foundation. Photo by Brian Smale.
Suzanna Darcy-Hennemann, '81
Your worst nightmare is her dream job. The first woman ever hired as a test pilot at Boeing, Darcy-Hennemann has spent 22 years making sure jumbo jets can safely do things they should never be asked to—like stall in mid-air and pull out of a nosedive. Photo courtesy of Boeing.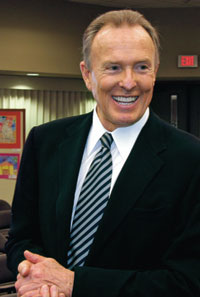 Donald Bren, '56
Real estate mogul and philanthropist Bren attended the UW on a ski scholarship and even tried out for the Olympics in 1956. An injury halted his bid, but the Irvine Co. chairman stands high atop the real estate mountain today with a $13 billion fortune. Photo courtesy of the Irvine Co.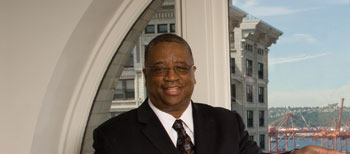 Larry Gossett, '71
In 1968, a young social activist named Larry Gossett was arrested during a sit-in and locked in a jail cell on the 12th floor of the King County Courthouse. That part of the building now houses Gossett's own office—he's chair of the King County Council. Photo by Mary Levin.
Hugh McElhenny, '52
His sport was football, but his specialty was the 100-yard dash. McElhenny is the only player in UW history to record touchdown runs of over 90 yards as a punt returner, a kickoff returner and a rusher from scrimmage. He's now in three Halls of Fame—Husky, College Football and Pro Football. Photo courtesy of the Pro Football Hall of Fame.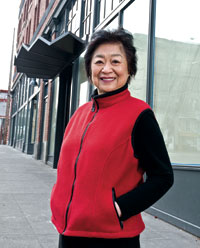 Dolores Sibonga, '52, '73
In 1978 Sibonga—the first Filipina American woman admitted to the Washington state bar—became the first Filipina American to sit on the Seattle City Council. Photo by Mary Levin.