Do you find yourself whistling "Bow Down to Washington" on your way to work? Doodling W's on scrap paper? Purchasing purple china? Using phrases like "call an audible" and "free safety" in conversations that have nothing to do with football? Relax. Fall will be here soon enough, and Washington Warm Ups—the UWAA's popular tailgate parties at out-of-town games—will be back, too.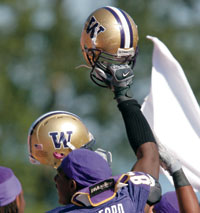 Get your game face on in the company of fellow Husky fans, and get a great package deal for a low price: just $15 for admission, a drink ticket, a commemorative button and another cool giveaway, with food and additional drinks available on an a la carte basis.
If you're a UWAA member and you register in advance, the price drops to $10. Advance registration is highly recommended. Walk-ups are welcome, but admission at the door may be limited. So visit UWalum.com and get your tickets today.
How 'bout Them Apples?
For Apple Cup, we're picking a local Spokane watering hole to host a Husky Happy Hour on Friday, November 21. We're also lining up a Husky Express bus that will take fans from Spokane to Martin Stadium in Pullman and back on game day, the 22nd.
Visit UWalum.com for all the details.
WARM UPS CALENDAR
Aug. 30 Oregon
Oct. 4 Arizona
Nov. 1 USC
Nov. 21–22 WSU
Dec. 6 California
Put Your Finger on the Button
The UWAA is once again soliciting slogans for its annual button contest. Do you have the perfect putdown for the Ducks, rallying cry for the Dawgs, or other team-specific catch phrase that would fit on a Washington Warm Up button? Visit UWalum.com/football to submit your ideas by Aug. 1. Prizes will be awarded to all five winning entries. Past selections include "Duck! Duck! Lose!" (Oregon), "Trojans Are History" (USC), "Bad News Bears!" (Cal) and the all-purpose classic, "Purple and Gold Never Gets Old!"