In the early 1970s, most readers responded to the title question of Richard Bolles' book, What Color Is Your Parachute?, with a question of their own: "Huh?" "Nobody knew what the title meant," Bolles told Fast Company magazine in 1999. "I'd go into book stores and find it in sports, with books about parachuting."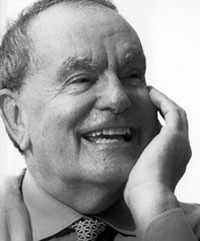 They know now. Since 1974, when an economic downturn pushed the book onto the best-seller list, it has sold tens of millions of copies. With his combination of practical advice and philosophical perspective, Bolles has proven to be the perfect counselor for those looking to "bail out" of their jobs (thus the book's title), or simply facing professional uncertainties. In 1991, the Library of Congress named Parachute one of 25 books "that have shaped readers' lives," alongside War and Peace, The Catcher in the Rye and the Bible. Bolles has written several influential follow-ups, most recently, What Color Is Your Parachute? For Retirement, and has become one of the most highly regarded motivational speakers in the country.

Yet for all his exposure, he has never made a Seattle appearance that was open to the general public—until now. On June 25, Bolles will speak at Town Hall. Co-presented by the UW Alumni Association and the Centerpoint Institute for Life and Career Renewal, "What Color Is Your Parachute Now?" will feature Bolles in conversation with Seattle media personality Tony Ventrella, and with the audience.

"Bolles' books and theories are relevant for alumni at every stage of professional and personal transition: from graduation, through one or more careers, and on to retirement," says Don Gallagher, the UWAA's associate director for career services. "He not only offers guidance for finding the right job, he points the way to taking control of your life and planning your own destiny."

Now in his early 80s, Bolles remains a captivating presence. Carol Vecchio, founder and executive director of the Centerpoint Institute, says his presentations are both entertaining and compelling.

"He's an amazing speaker," says Vecchio, who has studied with Bolles at several workshops and regards him as a mentor. "I've heard him in a room of 1,000 people, and it feels like he's talking to you individually. He just has a way of connecting with you, and a philosophy that resonates with your heart."

For more information about "What Color Is Your Parachute Now?" and to purchase tickets, please visit UWalum.com. Advance registration is requested ($9 for UWAA members, $12 general).