UPDATE
On March 6, a federal trial jury in Tacoma found Briana Waters, a 32-year-old music teacher from Oakland, Calif., guilty of two counts of arson for the 2001 fire that destroyed Merrill Hall at the UW Center for Urban Horticulture. Waters was a student at Evergreen State College in 2001 and allegedly a member of the Earth Liberation Front. Other members of the group have already pleaded guilty to the arson. The May 21, 2001 fire burned Merrill Hall beyond repair; severely damaged the Elisabeth Miller Horticulture Library; ruined the work space of 50 research faculty members, graduate students and staff; destroyed one-quarter of the world's population of an endangered plant species; and melted hundreds of slides (see "From the Ground Up," December 2002). The UW spent $7.2 million to replace and upgrade Merrill Hall.
HONORED
Medicine Professor Peter H. Byers has received the March of Dimes/Colonel Harland Sanders Award for lifetime achievement in the field of genetic sciences, the American College of Medical Genetics announced March 12. Byers is an international authority on the diagnosis and treatment of osteogenesis imperfecta, Ehlers-Danlos syndrome and Marfan syndrome. He is also a leader in the application of molecular genetic analysis to clinical problems. Based in the UW's Division of Medical Genetics, Byers is also a professor of pathology and an adjunct professor of genome sciences.
Harborview Medical Center is the recipient of the 2007 Foster G. McGaw Prize, presented to a health-care organization that significantly improves the health and well-being of its community, the prize committee announced Jan. 10. The group honored the medical center for programs that provide health care for the homeless, support jobs and housing for the mentally ill, create injury prevention programs for children, and undertake other outreach efforts. The $100,000 prize is sponsored by the American Hospital Association, the Baxter International Foundation and the Cardinal Health Foundation.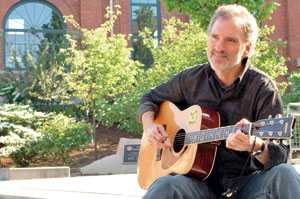 Michael Honey, the Fred and Dorothy Haley Professor of Humanities at UW Tacoma, received two major awards for his book Going Down Jericho Road: The Memphis Strike, Martin Luther King's Last Campaign, a historical narrative of the 1968 Poor People's campaign. The Organization of American Historians honored Honey with the Liberty Legacy Foundation Award, given annually for the best book on any aspect of the struggle for civil rights in the United States, from the nation's founding to the present. Honey also received the Robert F. Kennedy Book Award, for the book that "most faithfully and forcefully reflects Robert Kennedy's purposes [and] his concern for the poor and the powerless."
Maj. Bill Pastewait, an assistant professor of aerospace studies, was recently named the 2007 American Defense Preparedness Association's Colonel Leo A. Codd Memorial Award winner. This award recognizes the nation's most outstanding ROTC instructors in each service. It is the first time that an individual instructor has won the award twice; Pastewait also earned the honor in 2005.