Self-Serving Fiction

Join the military, face a miserable life? Not satisfied to present the troubled life of one young man in his story, "Saving Corporal Miller" [March 2008], the author, Luis Sinco, blithely proceeds to denigrate military service in general and those who voluntarily choose to serve their country in that capacity (with a few shots at "rural" Kentucky for good measure). I give credit to Sinco for taking a compelling wartime photograph, but that "war is hell" moment should have been where this story ended. Instead, we are provided with a self-serving fiction around the Marine in the photograph that summarily defines the U.S. military as a haven for America's "underachievers."

Sinco's muddled story is really about a dysfunctional young man from a poor and dysfunctional family. Add combat and a claim of Post-Traumatic Stress Disorder and Sinco assigns all of the man's problems to his military service (heck, he could have gone to Yale). Rather than attribute a cause and effect that may not exist, I would point out that the military consists of a typical (usually above average) cross-section of society. In my experience, the Marine portrayed is the narrow exception to the broad rule, that military service provides profound satisfaction and an enhanced life experience that far outweighs any sacrifice.

The U.S. military is simply a tool to ensure the safety and freedoms we are privileged to enjoy in this country. The constant drumbeat by self-proclaimed "intellectuals" that bashes military service makes as much sense to me as bashing those who serve in the police department. It is a twisted and lazy philosophy that confuses the "threat" with our protection against the threat. It goes something like this: "If can we discourage our youth from joining the military, we won't have any soldiers; without soldiers there won't be any war." We see this bizarre logic now playing out at military recruiting stations across our country. It is similar to suggesting that without the police, there would be no crime. The danger with this kind of shallow thinking is that it has the potential to create a military that actually matches Sinco's dismal assessment. Respect for those in uniform will fade, our brightest will choose other paths and military recruiters will be forced to further lower standards (back to the draft?).

I could forgive Columns magazine for presenting such a skewed portrayal if I thought a positive portrayal of military service was in the works, but I don't have much hope. Those among us who should be most capable of complex thought have chosen to accept, without challenge, the '60s notion that wars can serve no purpose and that the poor, uninformed kids who fight them have been duped and wasted. I would suggest a more reasoned approach, which recognizes that real threats exist and that those who volunteer to face those threats deserve our encouragement and praise, not our pity. Lux Sit.

Maj. Michael O'Neill, '87
Farmington, Minn.

Required Reading

Luis Sinco's "Saving Corporal Miller" should be permanently posted on every door in the Pentagon and in Congress and in the White House. And every president, including our current … disaster, should have to read it aloud before every public address.

This "Deal or No Deal" population thinks Rambo is reality; never mind that "Sly" Stallone never put his … ass into any army, let alone any war. This population allowed this destruction to happen to its own young people. … Thanks to Bush and Rove and Rumsfeld and Blackwater and Cheney and the majority of our voting public, this whole new generation of damaged "survivors" will weigh on our finances and our consciences for the rest of the century.

Gordon Anderson, '54
Seattle

Advice from a Vet

Being a two-year Marine Corps veteran of Vietnam, I congratulate your magazine on your veterans' coverage in the most recent publication. And I have some advice for your readers. After returning from Vietnam and graduating from the University of Washington, I suffered a very confusing dilemma. I looked all around at my friends and was immediately jealous that they all seemed to be graduating with definite career plans in mind. I had no idea what I wanted to do in life.

It was not until the age of 40 that I finally found my career direction. Now, at age 60, I am the owner of a very successful specialty travel and safari and clothing company (no, we do not shoot animals), a children's book writer and "happy as a clam." My retiring friends come to me and exclaim how lucky I am to be in a career I love and that I do not have to retire. So, to all of the graduating students, just do not give up.

Robert Henry Walz, '73
Vancouver, Wash.

Smoke Alarm

Is the cigarette in the photo of Blake Miller in the latest issue of Columns Photoshopped? It appears to have been added after the fact. Note how the last letters of "Marlboro" are clearly visible, yet all the lettering on the label of his jacket is illegible. It looks slightly out of proportion, a little too large. It's crisply defined and perfectly in focus, whereas everything else in the photo looks more natural. And there is no smoke coming from the end of the cigarette.

I wonder, did Sinco receive a kickback from Phillip Morris? Or was it just added to achieve a more macho image? I'm disappointed to see a story in your publication glamorize the smoking of tobacco.

Jeff James, '82
Kirkland

Editor's note: Photographer Luis Sinco sent us a "raw" digital file of the "Marlboro Marine" image and it was not manipulated in Photoshop or any other image enhancement software.

This Is the Way It Is

Thank you for two excellent articles in the March 2008 issue of Columns. Both the emotional tale of Cpl. James Blake Miller's difficult return from Iraq and Fred Quarnstrom's letter about his experience as a Vietnam vet were presented in a refreshingly straightforward "this is the way it is" manner. I fear that others will now use one or both of these superb pieces to further personal agendas not necessarily intended by either author.

Chuck Pilcher, '69
Kirkland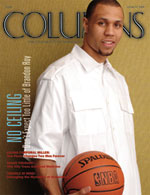 Roy Rage?
I have lived overseas for the last two years, so it was with a great sense of anticipation I opened my Columns magazine today. Thank you for sending it to me and allowing me to stay in touch with my alma mater. I always enjoy your magazine.
However, I haven't enjoyed it as much today because of one particular detail. I couldn't escape seeing the photo of Brandon Roy page after page throughout the magazine. In fact, his photo can be found on eight different pages! Please don't get me wrong. I don't even know who he is. It is the first time I heard of this (probably wonderful) athlete. My question, however, is whether or not there are any other athletes Columns magazine can feature besides Brandon Roy? It's not fair to other sports, including women's sports, for a magazine to only feature one particular athlete, in my humble opinion.
Leonid Regheta, '97
Wheaton, Ill.
Oaks and Acorns
I came away scratching my head after reading the March 2008 article regarding Athletic Director Todd Turner's "stepping down" (today's euphemism for being fired) and wondering why he stepped down given the performance accolades outlined in the article. Is there a sense of guilt somewhere?
There shouldn't be, and what should be told about Turner is that he ran an elitist program and wanted to rebuild Husky Stadium as the "Taj Mahal," "Church for Easter Sunday," with private suites, etc., shortly after he arrived here—along with raising football ticket prices.
Turner didn't have a clue how to interact with rank-and-file alumni that supported the UW in both athletics and academics. Simply stated, his town-and-gown persona was terrible. He didn't understand that "from little acorns grow big trees." Whatever may be said about Turner's predecessors—Barbara Hedges, Mike Lude, Joe Kearney and George Briggs—they … reached out to all levels of UW alumni.
The UW alumni have "big trees and little acorns." Turner forgot it! In today's fast-paced business environment, we should all remember that a little thank-you (personal note, letter, or phone call) goes a long way to turning little acorns into big trees.
David R. Evans, '61, '93
Mercer Island
Ordering Values
In the March 2008 issue of Columns, President Emmert talks of Americans' passion for sports and attempts to define that passion as existing only in intercollegiate athletics as an obsession ["A Bit of Perspective"]. The entire article seems to be about the president's perspective of the UW sports program getting too much media when it only contributes 2 percent of the annual budget and the other programs not getting enough attention. It appears that he does not think much about sports, fans or national recognition beyond the campus environment. He goes on about how universities should make sure that their athletic programs are a reflection of the values of the university, and defines those values in this order: integrity, commitment, collegiality, merit and competitiveness. … He did not list competitiveness as the primary value. His … order of values is not in tune with the rest of the universities that have winning programs.
… History has shown that we have had ideal leaders and coaches with all these core values and a high winning percentage. I think the president has exaggerated his opinion to counter the media and sports fans for the negative attention focused the University's mediocre major sports programs. His bit of perspective needs a re-evaluation.
Greg Meyer, '73
Newport
Another Perspective on Sports
President Emmert's piece on the perspective on university sports was excellent. I have attended UW football games for 55 years. Still, the best thing for me about the UW was the quality of the professors I had in earning an M.A. in political science. Professors Bone, Mander, Bird, Baskerville—they were excellent. I later earned a doctorate in education at WSU and have attended summer courses at the University of Oregon, Willamette University and the University of Arizona, so I have some "perspective." He is so correct. The quality of a university is dependent on the quality of the faculty and of course they will attract quality students. Keep up the quality work.
Harold B. Valentine, '67
Auburn
Letters to the editor are encouraged. Please include a daytime phone number
and send all correspondence to: Editor, Columns Magazine, 1415 N.E. 45th St., Seattle, WA 98105. You may send e-mail to or send a fax to 206-685-0611.