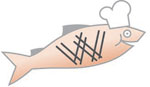 Summer's Here and the Time Is Right
Baseball games, barbecues and bonding with fellow alumni are all on tap this summer. Husky Summer Celebration, the UWAA's nationwide, summer-long party, is about to get under way, with nearly 20 events in 10 states. There'll be grand-slammin', grilled salmon and general good times for Huskies young and old, far and wide. Here's a taste:
SAN DIEGO, SEATTLE AND ARLINGTON, TEXAS
Husky Nights with the Mariners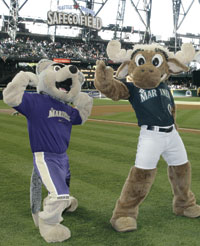 Let's face it: Husky fans love to watch games with fellow Husky fans—whether the Huskies are playing or not. This summer, cheer on the Seattle Mariners in the company of other UW loyalists at games in San Diego and Arlington, Texas. Buy your tickets now to see the M's battle the Padres June 29 at PETCO Park, and take on the Rangers July 28 at Rangers Ballpark. Huskies will be seated together in a special section at both games. And if you're in the Seattle area, here are four great reasons to catch the Mariners against the Cleveland Indians on Friday night, July 18: 1. You'll get a free Husky Mariners T-shirt at the game if you reserve your ticket through the UW alumni group. 2. You can bring along your UWAA membership card for a chance to spin the prize wheel. 3. You'll get a free Felix Hernandez bobblehead if you're one of the first 25,000 to show up. 4. For every single ticket sold through the alumni group, $6 will go to UW student scholarships.

SIX STATES AND THE DISTRICT OF COLUMBIA

Salmon Barbecues

For most of America, the first day of summer is June 20. But for members of the Husky Global Network, the season arrives nearly a week earlier, with the first of our famous regional salmon barbecues. On June 14, alumni in the New York area will join former Washington Gov. Dan Evans, '48, '49, and other UW VIPs for some classic Pacific Northwest fare at the Chappaqua, N.Y. home of Lex, '59, and Diane Gamble, '59. Other salmon barbecues will follow in Washington, D.C. (June 15), Pasadena, Calif. (June 21), the Bay Area (June 28), Golden, Colo. (July 13), Chicago (July 19) and Houston (Aug. 2). All alumni, current and incoming students, and friends of the UW are welcome to attend, with UWAA members receiving a discount on their tickets.

SEATTLE

Summer Career Fair

Self-promotion gets a bad rap. The fact of the matter is a little well-timed self-promotion can lead to good things—including other types of promotions. This year, as part of Husky Summer Celebration, the UW Career Center and the UWAA are giving students and recent grads a chance to set their careers in motion at the UW Summer Career Fair. As many as 80 employers will pack the HUB East Ballroom on June 24 to interact with career-minded Huskies, and to collect business cards and résumés. The UWAA will have a fair resource center on site for members. Admission is free.

Day Sailing

See Seattle from the Sound. Throughout June and July, Emerald City Charters is offering a discounted rate on its 11 a.m. day-sail for UWAA members. Bring a group of five or more fellow Huskies and get an even bigger discount.