June Is a Time for Beginnings—and Celebrations
Columns magazine is 100! Over those years, hundreds of editions have been sent to hundreds of thousands of alumni. Nothing has carried out the mission of the University of Washington Alumni Association—to connect alumni to the University—longer or better than Columns.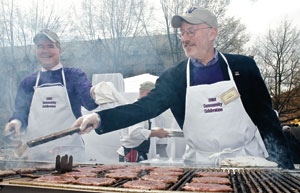 While the University's alumni magazine has changed formats, looks, and even its name over the past century, it always operated with the same goal: providing alumni with information about the UW and the alumni community so that they know they are members of the University family.
I know how much the magazine has meant to me. While I have served as publisher of Columns only for the past year and a half, the magazine has been a part of my life for as long as I can remember. My dad wrote a column for the magazine in the 1950s (when it was called the Washington Alumnus) and served on the magazine's advisory committee when he worked as the University's chief spokesman.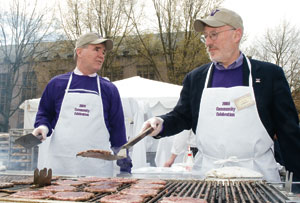 This issue pays tribute to Columns' 100-year anniversary by honoring 100 alumni we deemed "living legends"—men and women who have made their mark in every imaginable field. The people you will read about in these pages will impress you. They make all of us feel doubly proud that we are members of the same alumni community.
But we are not just looking at the past and present. June, after all, is a time of beginnings. In a few days, 10,000 seniors will receive their diplomas and celebrate the new phase of their connection to the University as alumni. June also kicks off a signature Alumni Association event, Husky Summer Celebration. We have events planned all across the country for alumni, friends and family to get together to celebrate the purple and gold.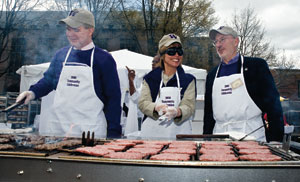 These get-togethers run the gamut from salmon barbecues to attending baseball games, and are a great opportunity for Huskies everywhere to take time out of their busy, post-college lives to celebrate what it means to be a part of the Husky community.

As the academic year comes to a close, I want to thank everyone who took part in an event, became a member or renewed a membership, contributed time and energy as a volunteer, helped raise money for student scholarships, and helped us continue to connect our alumni with our University. The UWAA is here to serve you, our alumni community. This has been a great year. And I promise next year will be even better.

. . .

One final note—As mentioned in the Prelude, with this issue we say goodbye to Tom Griffin, who left the Alumni Association in April after serving as the editor of Columns since 1989. Tom will be missed. His contribution to Columns and the University is impossible to quantify. We all wish him the best in his next career.




Chuck Blumenfeld, '66, '69
Executive Director, UW Alumni Association