| | |
| --- | --- |
| $10 Million Gift Creates Partnership for Needy Children | |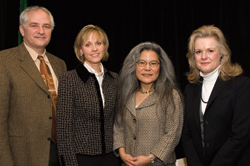 The University of Washington School of Social Work is playing a major role in an innovative new public-private partnership aimed at improving Washington's child-welfare system. Partners for Our Children will promote collaboration among the University, the state Department of Social and Health Services and the private sector to create positive change within the system, which serves 19,000 children in foster or group care.

"These children are society's children, our children. They deserve our attention," says Connie Ballmer, the partnership's cofounder and board chair.

Partners for Our Children is funded by a generous donation of $10 million from Connie and Steve Ballmer, a one-time commitment of $1 million from the state of Washington, and approximately $1 million per year in salary and operational support from the UW.

The School of Social Work brings to this partnership its world-class expertise, its ability to educate the next generation of child-welfare professionals and an infrastructure to support this ambitious endeavor. "This partnership is the most exciting opportunity the school has ever had to make a large and direct difference in the lives of children under state care," says Edwina Uehara, social work dean and partnership cofounder. "Our intention is to evolve the nation's best child-welfare curriculum and educate the most well prepared child-welfare professionals."

Partners for Our Children will pursue four main strategies: policy analysis and evaluation; program development, testing and implementation; education and training; and public affairs and communications.

"A variety of institutions have taken on one or more of these objectives, but none has integrated them all into one independent organization," says Mark Courtney, a national expert on child welfare who's been named the partnership's executive director and the Ballmer Endowed Chair for Child Well-Being in the School of Social Work.

For more about the partnership, visit www.partnersforourchildren.org.