| | |
| --- | --- |
| Engineer of Change | |
Written by Eric McHenry
Page 3 of 4


When Henry "Scoop" Jackson, '32, died in 1983, Washington voters chose Evans to complete his Senate term. Evans went east with high hopes, but found the next five years disheartening. In April of 1988, he published a grumbling essay in the New York Times Magazine called "Why I'm Quitting the Senate." "I have lived through five years of bickering and protracted paralysis," he wrote. "Five years is enough." In characteristic form, Evans tried to help fix the system even as he was washing his hands of it. His essay concluded with a set of proposals for the Senate, including a two-year budget cycle and a streamlining of the committee system.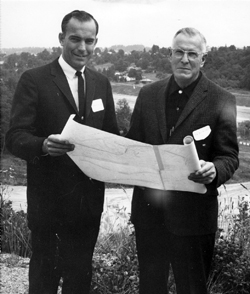 Evans fears that Congress has only further deteriorated since his departure. "Negative campaigning creates bitterness that carries over into public office," he says. A case in point is the fate of the Senate softball league, one of the few things Evans remembers fondly from his Beltway years. Senators and their staffers from both sides of the aisle used to play friendly games every spring—Evans and fellow Washington Senator Slade Gorton fielded a team named, inevitably, the Washington Senators. "And it was fun," Evans says. "You'd play other Senate offices, and after the game—it didn't matter who won—you'd all go off to have a beer together." The league fostered a kind of easy camaraderie, Evans remembers, that made cooperation that much easier on Capitol Hill. "Well," he says, "I heard recently that they've now divided it into two leagues, Republican and Democrat. Stupid. Just stupid."
• • •
One institution that's moving in a more promising direction, Evans says, is the University of Washington, where he has been happily focusing his energies in recent years. He's active at the school of public affairs that bears his name, speaking to seminars and meeting individually with students and fellows. He helps out with UW Athletics. His dozen years of service on the Board of Regents, including a term as its chairman, ended last year. Now he's vice chairman of the UW Foundation Board.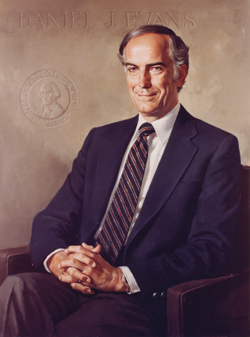 "The current feeling I have about the University is one of real pride," he says. "I think the faculty and the management of the University have caught on faster to what's necessary now in higher education than most other universities. And you can put Harvard and Stanford and a lot of the very fine ones in that category. They're still basically stove-pipe institutions that depend heavily on departments. Interdisciplinary work is not easily done, and not valued as highly. I'm looking at them from the outside, of course, but I think the University of Washington has been very, very successful in its interdisciplinary work, and that is where universities have to be today because the barriers between disciplines are just breaking down."

Evans says he's particularly proud of what a high priority the UW has made its undergraduates—he mentions the expansion of research opportunities for young students, and the adoption of the Students First and Husky Promise initiatives to help them pay for school. In January, Evans speed-walked the Seattle Half Marathon on two artificial knees to benefit Students First, completing the 13.1-mile trek in three hours and change and raising more than $100,000 for the scholarship program.

"Everybody bet he couldn't do it as fast as he did it," says Douglas, who still goes on long hiking excursions with Evans almost every year. Douglas marvels at the energy of his octogenarian friend, both physical and mental. He says Evans plans their trips just as meticulously as he did back in the Boy Scouts. "He sent me a Christmas card that said, 'This half-marathon is just a warm-up for next summer, Bill.' So I guess we're going somewhere in the summer." • Eric McHenry is associate editor of Columns.