| | |
| --- | --- |
| Engineer of Change | |
Written by Eric McHenry
Page 2 of 4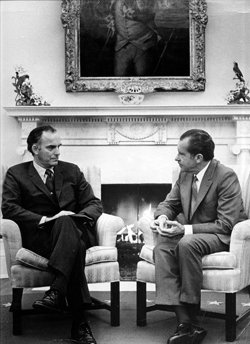 When Dan Evans' family first came to the state of Washington, there was no state of Washington. In 1859, the year his great-grandfather settled in what is now Port Gamble, there were 500 people living in Kitsap County—making it roughly twice the size of King County—and fewer than 12,000 in all of Washington Territory. Three decades later, Evans'grandfather served in one of the young state's first senates.

Evans grew up in Laurelhurst and attended Roosevelt High School, where, seeking the junior class presidency, he suffered the only electoral defeat of his life. After graduating in 1943, he went straight into the V-12 naval officer training program. His first duty station was the UW, although the Navy moved him to an ROTC program at the University of California-Berkeley after only eight months.

By the time Evans deployed to the Pacific as a commissioned ensign, the war was over, and he spent much of 1945–46 on aircraft carriers, helping to bring soldiers and planes back home. When he returned to the UW in the fall of '46, he felt too old and impatient for extracurricular activities. He buckled down, studying civil engineering under many of the same professors who had taught his father 30 years before, and completed a B.S. in 1948 and an M.S. the following year.

After graduation, Evans took a job on the city of Seattle's structural engineering design team, where he helped draw up plans for the Alaskan Way Viaduct. "I figure that I've lived too long," Evans jokes, "because that marvelous, permanent structure that I helped design is now under fire and they want to take it down." (Despite his sentimental attachment to it, Evans has forcefully argued for the viaduct's replacement by a tunnel.)

One day in 1956, Evans called up Bill Douglas, '55, and told him he was considering running for the state legislature. Although he was several years Douglas's senior, Evans felt that a friend with a political science degree might have some useful insights.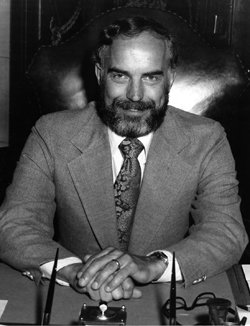 "There was a long silence on my end," Douglas recalls, "and finally I said, 'Well Dan, I think that's wonderful, and you're a terrific engineer, but you know you're not the world's greatest stand-up public speaker.' In fact, he was a terrible public speaker. And Dan said, 'Well, I've taken that into account. I've spent the last year going to the Toastmasters club, and I've just won the prize for the most improved member.' "

Douglas now admits he should have seen this coming from his former Boy Scout troop leader—an Eagle Scout who had so deeply internalized the motto "Be Prepared" that on outings with him nothing ever went wrong. Evans, of course, would go on to win not only the 43rd District legislative race but every subsequent race he entered. (He would also become known for his prowess at the podium, appearing on the cover of Time magazine in 1968 as the keynote speaker at the Republican National Convention.)

Once in office, Evans invariably took the same approach to problems and needs—identifying them early, sometimes before they even arose, and addressing them with aplomb and humility. In his first term as governor, from 1965–69, he worked with a divided legislature to create the state community college system and secure huge increases in funding for education. In 1970, he established the first state-level Department of Ecology, which the Nixon administration would later use as a blueprint for the creation of the federal EPA. In 1974, Evans launched the ambitious "Alternatives for Washington" program—a survey of the state's citizens that drew 70,000 responses and would influence policy for decades to come. "It was amazingly far-sighted," Archibald says of the program, which yielded policies covering everything from transportation to education to social services with a heavy emphasis on environmental protection. "If you look back at that agenda, we're still working on it. And that was 30 years ago." Following a 1981 study by the University of Michigan, Evans was named one of 10 outstanding governors of the 20th century.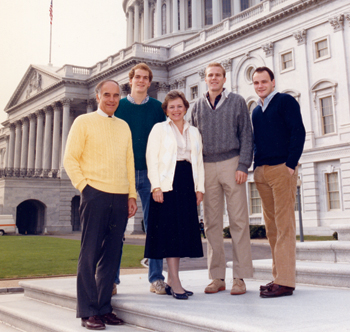 Evans also fought tirelessly, and without success, for a state income tax. In fact, the self-styled conservative took up some improbably liberal-looking causes during his tenure as governor. But Evans insists that an active state government, far from being incompatible with conservatism, is the embodiment of it. The best way for governors to keep power from concentrating in a bloated federal bureaucracy, he says, is to keep things running smoothly at home.

"I've given innumerable speeches along that line," he says. "I'm writing an autobiography now, and I was just rereading one of my speeches a few days ago—I was admonishing the audience about the need for state government to really step forward and do its task, or else prepare for an orderly handover of state responsibility to the federal government."

Evans is sorry that the popular definition of conservatism has so narrowed in recent decades. And he laments the decline of bipartisanship, which was always his preferred way of getting things done. Neil McReynolds, '56, Evans' long-time press secretary, remembers the governor saying over and over, "There aren't Republican solutions or Democratic solutions. There are the best solutions. That's what I'm looking for." And he wasn't just saying it in speeches, McReynolds adds, but in private conversation. "It was just the way he felt about things."