Page 1 of 4
Fate and a fierce, independent streak kept him out of the White House. But that may have been for the best, since it kept Dan Evans close to his home state—and his alma mater.
At about 3 in the morning on Aug. 19, 1976, Dan Evans got a phone call with some disappointing news: he would not be Gerald Ford's running mate in the upcoming presidential election.

Everyone from a coalition of Republican governors to Ford's own son had been telling the president to pick Evans. But during the primaries, a strong challenge from archconservative Ronald Reagan had worried Ford—enough to tip the balance in favor of Bob Dole, a war hero whose voting record in the Senate made him more palatable to the right wing.

Ford probably should have listened to the Evans advocates. Dole's abrasive style didn't do their campaign any favors at a time when voters wanted to heal the wounds of the Watergate years. "I got to know Bob Dole when he was Senate leader," Evans recalls, "and he was a very funny guy. But he didn't come across that way in that campaign. And that was a very, very close campaign. It wouldn't have taken much for a Ford victory—a shift of 6,000 votes in Ohio and 3,000 in Hawaii."
It wasn't the first time Evans' name had nearly appeared on a presidential ticket. In 1968, Richard Nixon had strongly hinted that an endorsement from Dan Evans at the Republican National Convention would be repaid with a vice-presidential nod. Evans thanked him and proceeded to support the lost-cause candidacy of Nelson Rockefeller.

For admirers of Dan Evans—and they are legion—it's a bit painful to think about how little seemed to stand, at various times, between him and the presidency. If he'd taken Nixon's bait, for example, he would've been in a position to inherit the Oval Office after Watergate.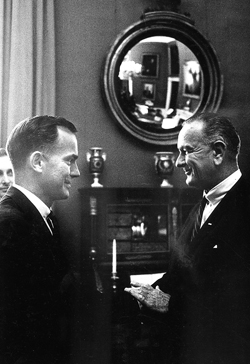 Evans himself, now 81, freely admits that he felt qualified for the nation's top office, and believes he could have put together a strong administration. But he also admits that he "didn't really thirst for the presidency" the way others have. His first priorities have always been his family and his home state. And he never had much patience with the back-scratching and superficialities of national politics. At the start of his third gubernatorial term, when speculation that he might seek the White House in 1976 was widespread, Evans grew a full beard—unheard of for a presidential aspirant. (One fellow governor quipped, "I think you're running for president—but you're 100 years too late.")

Washington, D.C.'s loss has been the other Washington's gain. In addition to his three successful terms as governor, Evans has given the state five years of able representation in the U.S. Senate, eight years in the state House of Representatives, six years as president of the Evergreen State College, twelve years on the UW Board of Regents, and a lifetime of loyalty. He is perhaps the most popular and influential political figure in the state's history. "He just lives integrity," says Sandra Archibald, dean of the Daniel J. Evans School of Public Affairs. "We call him a compass, a moral compass for future leaders. One of the main reasons this school was named after Dan is that he has this blend of lofty ideals and a practical approach. It's a combination that's really, really rare in a politician. He has the ideals, but he knows how to get things done."

This year, to mark the 50th anniversary of his entry into public leadership, the University of Washington and the UW Alumni Association have named Daniel Jackson Evans, '48, '49, the Alumnus Summa Laude Dignatus—alumnus of the year. It's the highest honor the University confers upon its graduates, and Evans is its 67th recipient.