Alumni looking for new career opportunities can schedule "face time" with employers in such fields as engineering, information technology, sales, business management and manufacturing at the July 20 UW/Pacific NW Tech Career Fair, a first-time event organized by the UW Alumni Association in partnership with Pacific NW Tech and the UW Center for Career Services.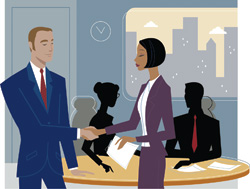 Open to both alumni and the general public, this fair offers a unique "first-come, first-served" system. Professionals are prescreened by Pacific NW Tech and scheduled with employers based on their backgrounds and interests. Don Gallagher, manager of Husky Career Advantage, says this personalized approach was part of the appeal of adding a career fair to the UWAA's program. "This fair is a great fit for our Seattle-area alumni with backgrounds in business or technology who are in transition, either planned or unplanned," he says.
Companies that have participated in past Pacific NW Tech career fairs include Intel, Microsoft, Verizon Wireless, Volt Technical Resources and kForce Technology Staffing. The sponsors are working on a similar lineup for the July fair.
Gallagher anticipates that it will draw plenty of alumni employers in addition to potential employees. It will be held from 3–7 p.m. Thursday, July 20, in the Mary Gates Hall Commons. Advance registration is required for both employers and jobseekers and is available at pacificnwtech.org .