How the World Knows the UW
The real value of the University of Washington, our true strength as well as our competitive advantage, is our people. Through their contributions to art, science and society, our faculty, staff and students bring us recognition and respect. We take especial pride in the accomplishments of our alumni, because it is through them that the world around us most often comes to know the UW.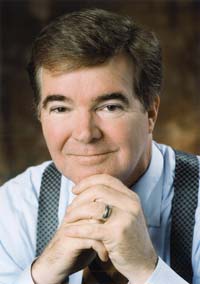 Many UW graduates have gone on to achieve at the highest levels. A list of our distinguished alumni is as diverse as it is impressive, from business and government leaders to scientific innovators and educators, from Pulitzer Prize and Grammy Award winners to glass artists and architects. The common thread among these remarkable individuals—other than their connection to the UW—is that they each have had an extraordinary impact on our world. I am delighted that this issue of Columns introduces you to a few of them, including Linda Buck, '75; William Foege, '61; and Don Brownlee, '71.

This year's Alumna Summa Laude Dignata, Linda Buck—a classmate of mine in 1975—came to the public's attention in the fall of 2004 when she was awarded a Nobel Prize for her pioneering research on the sense of smell (see "The Right Questions," page 18). Of course, the scientific community had long been aware of Buck's exceptional gifts and talents. I suspect that the rest of our society will soon understand the magnitude of her work as well, as her research discoveries begin to play an increasingly important role in treating the diseases that affect so many lives.

A 1961 graduate of the UW School of Medicine and our 1994 Alumnus Summa Laude Dignatus, William Foege has improved the health and saved the lives of millions of people worldwide. After playing a key role in the eradication of smallpox, he went on to successfully deal with health crises facing our own nation as head of the Centers for Disease Control. Since his departure from that position, his impact has continued to be felt on the global health stage through his work at the Carter Center and the Bill & Melinda Gates Foundation, and through his efforts to raise general immunization levels of the world's children and fight such diseases as river blindness and polio. We are honored to have a building named for Bill Foege on our campus (see "Meeting Ground," page 28), and I think it most appropriate that the people working in that building will be carrying on his legacy of using science in the service of humanity.

Before becoming widely known as the UW professor who is principal investigator for NASA's phenomenal Stardust mission (see "Gathering Dust," page 24), Don Brownlee was a newly minted Ph.D. from our astronomy department. While his success in capturing dust particles from the outer reaches of our solar system has garnered international media attention, the real excitement might be yet to come, with Don and his team just beginning to analyze the interstellar samples. The answers to some of the universe's biggest mysteries may at this time be in the hands of a UW graduate and faculty member.

Many, many volumes of Columns could be filled with the stories of our distinguished alumni. Yet even that large number falls short of the countless lives that have been transformed as a result of our Husky graduates—children who have learned to love reading as a result of the books written and characters created by Beverly Cleary (Information School, '39), talented students who have entered and succeeded in science education because of the efforts of Shirley Mahaley Malcom (Zoology, '69), women and children in rural Kenya who benefit daily from the grass-roots nonprofit center started by Suzanne Jeneby (College of Arts & Sciences, '02), and the list goes on.

The University of Washington transforms the world through its people. Our faculty, staff and students each have an important part to play in this. Our alumni, most definitely, are doing theirs.


MARK EMMERT, '75, President