JUNE 2006
:
Home

Columns and Departments

Latest

First Take: Dawg Tags
| | |
| --- | --- |
| First Take: Dawg Tags | |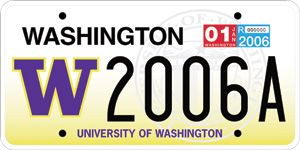 Huskies, we have a problem. At any given time, the UW has more graduates on the state's highways than any other school. But you wouldn't know it, because WSU license plates outsell their UW counterparts by an embarrassing margin of nearly three to one. This can't be allowed to continue—Cougars roaming the roads with impunity while Huskies keep their pride inside. If you're the owner of one of the offending fenders, visit immediately to reserve your new UW specialty license plate. Created by the gifted graphic design students in the UW School of Art, it features a bold block W. Clear, simple, purple. That's what we're talking about. And most of the money from sales and renewals will go directly to the UW General Scholarship Fund. So it's a win-win proposition—good for the roads and good for the scholars.