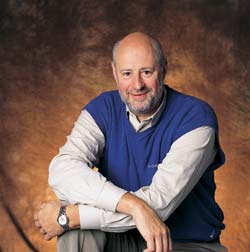 After a Great Year, Even More Service to Alumni
June is a special time for me. Besides the excitement of commencement and the sense of relief that comes with the end of the school year, I always like to look back and see if we at the University of Washington Alumni Association did what we set out to do to serve you.

I am thrilled to say we had a sensational year.

We turned Homecoming into the grand occasion it should be, with 11 different events during Homecoming Week, including the 20th annual Dawg Dash, our popular Homecoming Rally, a special event recognizing the 11,000 UW employees who hold degrees from the University and a gathering to honor our fabulous volunteers as well as the Purple & Gold Society (our alums who graduated 50 years ago or more).

Our Career Discovery Week—which began seven years ago as a grassroots effort by a handful of UWAA and campus employees—drew upward of 6,000 students, alumni and volunteers in January, and involved more than 50 campus partners. For the first time, all three UW campuses participated in this career extravaganza.

During April's Washington Weekend, thousands of alumni, students, parents and friends came back to all three campuses to take part in 70 family-friendly events that ran the gamut from a Husky softball game to the College of Engineering Open House.

If that wasn't enough, consider the 100 faculty lectures we put on. Our pool of alumni volunteers who serve as career contacts for our Career Connections program topped 5,000. And during winter quarter, nearly 130 alumni served as mentors to EOP students—an all-time high.

Thanks to the tremendous work by our volunteers, our ability to raise money for student scholarships continues to grow. Your generous support at events like Coaches Tour, Dawg Days in the Desert and the Bridging the Gap Breakfast helped the alumni association raise $200,000 to give to students.

I could go on and on. When people ask what an alumni association does, you can be proud that the UWAA is putting your membership dues to work to provide you with services and benefits you can't get anywhere else. Where else can you take advantage of life-long learning programs, career assistance, student scholarships and social events where you can celebrate our Husky Pride?

And the thing is—as great as this year was, I know next year will be even better.

This time of year is also when we as a University community pay homage to our latest group of award winners. (Check out the profiles of the seven teaching award winners on pages 32–37. You will be blown away.) It amazes me to know that I work alongside such genius and dedication—and it makes me want to do my job even better. That is what Husky Pride is all about.

June is also when we raise a toast to the 12,000 UW students who are graduating—or, as we like to say, joining the ranks of proud alumni. On this momentous milestone, I want to offer my congratulations to the parents of new graduates, and to the new grads themselves—along with a reminder that your connection to campus won't just fade away now that you are no longer in the classroom.

The UWAA is your alumni association and your gateway to your alma mater. We have a whole host of ways to enrich your life, save you money, help your career blossom and help you have fun. We hope on this special occasion that you will consider becoming a member of the alumni association. (We even have a special deal for you new graduates: $20 for a one-year membership. So, for what I spend on lattes in a typical week, you can reap the hundreds of benefits of being a UWAA member. And you will more than make up the cost of that membership in no time, you'll see.)

I'll close with this: Five years ago, I returned to my alma mater to become the UWAA's executive director. Over that time, I have become even prouder of what we as an association have achieved. As an organization, we have always worked to bring you the best benefits you can find anywhere and provide you the kind of value and programs you want.

We had a great year in 2005—06. But I am sure that this upcoming year—the Year of the Dog (or Dawg, as we like to say at the Alumni House)—will be even better.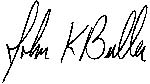 JOHN K. BULLER, '69, '71
Executive Director, UW Alumni Association