Page 7 of 7
Class Act in Acting Class
SHANGA PARKER
Associate Professor, Drama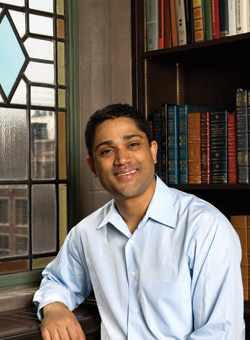 "Unlike the life of a 'mercenary' actor," jokes Shanga Parker, "teaching is about giving." Parker was bitten by the giving bug in the form of University Drama Professor Robyn Hunt, who was in Romeo and Juliet with Parker in Louisville, Ky., in 1994. Hunt convinced him to come to Seattle and teach drama part-time—the rest is history.

"I have been inspired by Shanga's wit and sharp intelligence, surprised and delighted by his instincts for innovation and invention," writes Hunt of her colleague and friend.

Like acting, Parker finds teaching has a performance element. He has also found that it rounds out his life in a way that acting and directing in Southern California had not. "I finally saw a possibility for a reason for doing what we do," he says.

Parker continues to keep his acting and directing chops sharp while teaching. He has performed in a long list of plays, both on Seattle's professional circuit and at the University. He also made an imprint on the small screen in '80s and '90s sitcoms such as Married ...With Children, Family Matters and The Fresh Prince of Bel-Air.

One of his focuses since coming to the University has been creating more opportunities for students to practice playwriting. To this end, he created Once Upon a Weekend in 1998—a topic is announced on Thursday, plays are written over 24 hours, they're cast and rehearsed, and are performed on Saturday.

"It was based on something I did as an undergrad," says Parker. "I was introduced to it by [playwright] Paula Vogel [and] I brought it here because there were hundreds of students who wanted to act, direct and write. There is something wonderful about having actors rely upon their first impulse."

Similarly, he began 14/48: The World's Quickest Theatre Festival, The Class (as it is informally called), which brings together five writers, five directors and 20 actors to make instant theater. Once they have a topic, the writers have 12 hours to write a play, and the actors and directors have eight hours to rehearse and perform it.

Jeremiah Davis, a student in the graduate MFA program, says, "Shanga Parker is not only a superior teacher from an academic perspective, but he brings with him the grit and truth of the acting profession as he has experienced it."

Most of all, Parker tries to imbue his students with confidence, no matter what area of drama they choose to participate in. "I try to give them the sense that what they themselves do and present is often enough," he says. "They're striving to put themselves in the position where who they are or what they're trying to say is something worthy of striving for."—Niki Stojnic

Niki Stojnic is a Seattle free-lance writer and frequent contributor to Columns. Tricia Schug is a writer for UW Tacoma.