Page 6 of 7
Global Thinking Begins at Home
RON KRABILL
Assistant Professor, UW Bothell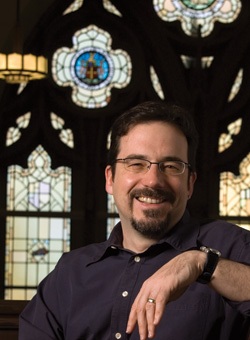 Ron Krabill builds bridges. As an assistant professor of interdisciplinary arts and sciences at UW Bothell, he builds them across disciplines and between students.
"The main thing I focus on is creating a class people feel comfortable and safe in," says Krabill. "I spend a lot more time on introductions and making sure that everyone says something early on." Krabill's focus on a comfortable environment is important because he pushes his students to often answer tough questions, such as one recent example: "When I say the word 'Africa' what's the first thing that comes to mind?"
Where other departments intensely focus on one discipline, Krabill's expertise is a bit tough to quantify, at least if you go by his class titles, which range from Social Action, to Media and Social Movements to Colonizing History in Sub-Saharan Africa. Broadly, Krabill studies global social movements, but his passion lies in their interconnections.
"What I push students to recognize is that a lot of what seems like you have no control over is still a human-made process—so humans can change it," says Krabill. "It's not 'just the way things are.' You have to think about if that's true. [Students] often think there's one person who's pushing the button."
Krabill often has his students read source texts: "I'm not giving them the Cliff Notes version. I want [them] to struggle and engage it."
One of Krabill's efforts to immerse his students resulted in an online course (taught in 2003 and 2004) called Advanced Media Studies, about media and society in comparative perspective. The twist? Half the students were from UW Bothell and the other half from the University of KwaZulu-Natal in South Africa. The class will be offered again in fall 2006.
Krabill's particular interest in Africa is contagious for at least some of his students. "He mentored me to go beyond the academic understanding of South Africa to seeing and feeling the country firsthand. With his encouragement and work I achieved the experience of not only studying in another country, but creating an analysis and highly publishable paper," writes Morgan Mentzer of Seattle Youth Garden Works.
Krabill recently received a grant from the UW Bothell Teaching and Learning Center to incorporate community-based learning in his Institutions and Social Change class. In it, students form research groups to examine a controversial issue and then work with a community-based organization; for example, one student group made presentations to teenagers at the Northshore YMCA on self-image and mass media, while another worked with two television shows that reach out to immigrant communities from the Horn of Africa.
"I'm committed to community-based learning," Krabill says. "The best comes from recognizing that the University and community are not two different places. Basically, ideas matter. We need to have a global perspective."—Niki Stojnic