Page 5 of 7
Everything Old Is New Again
ROBIN STACEY
Professor, Department of History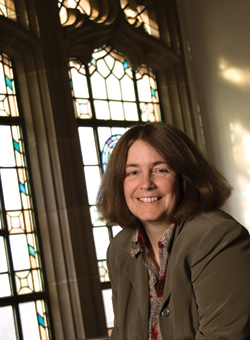 It's not often that a professor who specializes in medieval and Celtic history finds pop-culture parallels, but Robin Stacey hit the jackpot when the Lord of the Rings trilogy was reborn on the big screen.
She crafted her first class around the J.R.R. Tolkien trilogy in autumn of 2005 in response to suggestions from students who wanted to explore it further. The class uses Tolkien's stories as a lens through which to look at England's past, says Stacey. "That book drew quite a lot from Norse sagas. Tolkien is a fantastic author to use when exploring interesting issues regarding language and myth, the nature of heroism and the nature of evil."
In fact, Stacey listens to her students quite a bit in creating her classes. Students look forward to seeing Stacey outside of class; they regularly visit her office hours and say she puts them at ease.
Stacey's own college studies had her globe-trotting: the University of Colorado and Colorado College, the Université de Strasbourg (France), Oxford (England, where she spent two years learning Irish and Welsh) and Yale. She says a great teacher of modern French and Italian history started her down her current career path; "She was the sort that made you care more about the French Revolution than about your daily life." Later, a paper on Irish monks that she was asked to do while teaching at Yale sealed her happy fate.
In addition to working towards making the popular Tolkien course a regular offering, Stacey is currently working on a book tentatively titled "Law as Literature in Medieval Wales."
Stacey says she uses humor, primary sources and her "huge" medieval slide collection to get her pupils as excited as she is about medieval studies.
"What I really love is when someone had to take [my class] for a requirement, or the timing works for them," she says, "and I can send them out of there really caring about this period or these people."
Indeed, Jennifer Price, a former student, says, "I was immediately struck by [Stacey's] enthusiasm for a period of history I had hitherto not given much thought towards. She made me care about the exploits of 'barbarians,' Romans and other peoples inhabiting the early medieval world—no easy task at 9:30 in the morning."
"The best thing we can hope to do is to inspire passion," says Stacey. "When a student is swept by a passion for something, whatever they go on to do, that passion will stay with them forever."—Niki Stojnic