Page 4 of 7
Tools to Dream With
CHERYL GREENGROVE
Professor, UW Tacoma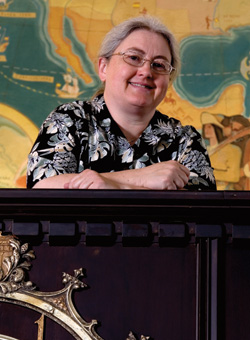 Cheryl Greengrove was 10 years old when she took on her first teaching assignment. Recognizing Greengrove's advanced math skills, her fourth-grade teacher assigned her to tutor the "slow kid" in class.
The same abilities that shot her to the head of the class in grade school put the UW Tacoma environmental science professor at the top of her field today in physical oceanography. Greengrove can't remember a time when she didn't think like a teacher. "Ever since I was a kid, whenever I learned something, the next thought I had would be how to explain it to somebody else," she says.
Jeff Hubert, environmental science major, says that Greengrove's style of teaching has motivated him to learn as much as he can. "I don't think I have ever worked so hard or learned so much in a college class," he says of Greengrove's Water Resources and Pollution class. "She is so enthusiastic, so happy with her work, it's contagious and it motivates you to learn."
As a physical oceanographer, Greengrove delights in sharing her love of the ocean with others. "It is really easy to get people excited about oceanography because of where we live," she says. "People are naturally interested in Puget Sound, and I help them delve into the parts that interest them most."
To do this, Greengrove takes students on research vessels to get hands-on experience in the study of oceanography. Aboard boats that sail from Tacoma to the San Juan Islands, students sample and analyze water, plankton and sediments in four separate areas of Puget Sound, often teaming up with community agencies to conduct relevant scientific studies.
While she loves the research work and is a self-described "science nerd," Greengrove says that teaching is her first love. "Really, this job combines all that I love – science, the outdoors, teaching and people. Life is just too short to do something you hate or don't feel is important," she says.
"My job is to provide students opportunities and give them tools to pursue their dreams," she says.—Tricia Schug