Page 3 of 7
Necessary Steps
JENNIFER SALK
Assistant Professor, Dance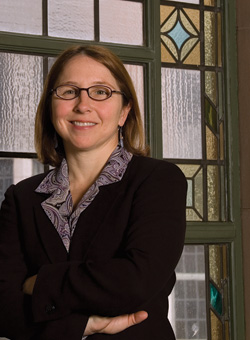 Jennifer Salk keeps a quote by writer Jim Harrison on her door: "I suspect that at its best, your education's main motive is to fuel your curiosity and teach you how to find out things for yourself."
By the looks of it, the teacher, dancer and choreographer has both areas covered. "Her way of teaching makes people feel at home but at the same time they feel challenged and are moved to improve, to work hard and to always reach for new goals," writes Alice Gosti, a former student who now lives in Italy.
She spends hours preparing for her classes, which include all levels and dance styles except ballet. "I've never taught any class the same way twice," says Salk. "That would bore me."
Because of her broad teaching scope, she has the opportunity to work with the same students throughout their college careers. "It becomes a family," she says. "They get lots of individual time."
She approaches the discipline from multiple angles, including research. "Students do a ton of writing in this program," she warns. She restructured the Teaching Methods course so students would be required to teach dance in the community. "It gives them a huge appreciation of what good teaching is," she says. More recently, she restructured the 20th/21st Century Dance History course so students not only read about particular time periods and people, but perform pieces for each other in order to experience the dance style.
Salk draws her energy from regular interaction with her pupils. "It's daily therapy, even when I get burned out. I'm very much a teacher; I start to doubt my identity when I'm away from it," she laughs.
In addition to her work at the University, she continues to dance and choreograph around the country as well as do community work. Notably, for 15 years, she has been chair of a summer dance program for teens in North Dakota. In 1999, she co-founded the Green Mountain Dance Teachers Retreat, a bi-annual international gathering of dance instructors in Vermont (where she grew up) with workshops and networking. "I leave there with about two years' worth of information," says Salk.
She wants to equip her students with a broad education. "They should be able to walk into any audition anywhere in the country and do well." Salk also wants to infuse in them a lifelong passion for dance and movement. "The old school was to beat up your body. Our hope is they will dance into their 60s and 70s."—Niki Stojnic