Page 1 of 7
Chasing the Gray Away
WILLIAM WELLS
Senior Lecturer, Business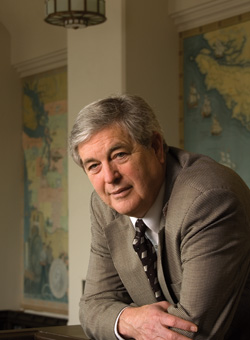 For some people, a midlife crisis means a fancy car or an exotic trip. William "Bill" Wells, '89, decided to get his second master's degree.
The retired lieutenant colonel had eased into civilian life after 20 years in the military, where he specialized in intelligence. He had various jobs including working as a comptroller at Fort Leavenworth in Kansas and substitute teaching at the University of Maryland. But, he says, "I was enjoying life very little."
He used expiring G.I. Bill funds to study accounting and in 1989 received his master's from the University of Washington. A stint as a teaching assistant for an accounting class led him to substitute for the same professor the next year when that professor went on sabbatical. After 16 years, Wells jokes self-deprecatingly, "They haven't asked me to leave yet."
Wells recalls an overall bland college experience when he was an undergraduate in the early 1960s at Cal-Berkeley. "My recollection is no one cared about me, I didn't establish any mentor experiences. My college experience was gray," he says.
In contrast, he makes sure his UW classroom is vivid, using real-life examples of accounting in action in hopes that, at the very least, his students will be able to understand a Wall Street Journal article.
He is also renowned for using his office as a second classroom. "As early as 1992, he was affectionately dubbed the 'pied piper' of accounting because of the long lines of students who would follow him to or from his office and/or classrooms," writes Jim Jiambalvo, dean of the Business School.
Wells created and still teaches Accounting 199, a tutorial crash course originally limited to EOP students (and now includes other students), helping them get up to speed for the introductory-level accounting classes. "The key to that course is that it's limited to 15 people," he says. "You can't hide in a classroom of 15 people." He says his challenges are to toss out those students' perceptions that accounting involves complex math ("The most complex thing is y to the x power," he laughs) and that accountants themselves are "short, bald and pudgy."
Most of all, Wells says, accounting is everywhere, so it's important that everyone understands it, even as he actively tries to convince on-the-fence sophomores in his 200-level class that they should make it their major.
"Accounting is the language of business," he says. "The students are my customers, and I try to make it interesting."—Niki Stojnic