Page 1 of 2
From the west, it looks like it could be the latest building in the University of Washington's central campus: a warm reddish-orange exterior, subdued classical design, elegant lines. Approach that same building from the east and it looks more like its immediate neighbors: shimmering glass, burnished metal, a chillier modern mood.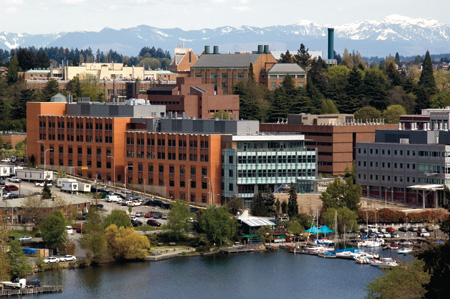 Such is the dual nature of the William H. Foege Building, named after the UW School of Medicine graduate and epidemiologist who helped eradicate smallpox.

At first, the Foege Building seemed to have divided goals. The building needed to bridge the gap between the red-brick buildings of upper campus and the steel-and-glass structures along Portage Bay. It needed to accommodate the rapidly growing Department of Genome Sciences, but also provide a unified home for the Department of Bioengineering, which was scattered across nine different locations around the campus. And it had to be a facility for both the fundamental, such as basic research on the human genome, and the practical, such as development of biomedical technology.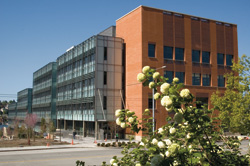 But the final structure has one common theme running throughout: community. Both halves of the building feature communal gathering areas for faculty, staff and students. Coffee lounges and kitchen areas, open stairwells and informal lobbies with armchairs, side tables and whiteboards—all of these are meant to spur conversations between scientists, engineers and physicians.
Looking down from the railing at the top of the towering, four-story, open-air atrium in the genome sciences wing, it's easy to imagine a young researcher calling out to a professor down on the main floor, hoping to share some new finding with a more experienced colleague.
"The design here revolves around collaboration," says Peter Stazicker of Los Angeles-based CO Architects, the firm that designed the Foege Building. "It's important to have those chance meetings between scientists. We wanted places in the building to encourage that kind of interaction."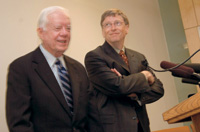 Strong collaborations and serendipitous conversations have helped fuel great advances in the life sciences. Decades ago, in a chance meeting on the stairs of the UW Health Sciences Center, a physician told his colleague, Professor Belding Scribner, about an incredible new material—Teflon. Scribner and bioengineer Wayne Quinton, '58, decided to use the nonstick substance to make the shunt for the first practical kidney dialysis treatment in the world.

The future residents of the Foege Building are no strangers to teamwork, either. The UW genome sciences faculty includes three of the chief architects of the Human Genome Project—Philip Green, Maynard Olson and Department Chair Robert Waterston (see "Prize Catch," March 2003).

Almost a half century ago, a UW bioengineer refined the medical ultrasound machine so that it gave high-resolution, crystal-clear, real-time images (see "Inside Story," June 2002 ). Now, Yongmin Kim, the chair of bioengineering, is partnering with engineers and physicians to develop the next generation of medical ultrasound.