Page 3 of 3
In 2002, Buck accepted an appointment from Fred Hutchinson and returned to Seattle. A year later, she joined the UW faculty as an affiliate professor. Mark Groudine, who recruited her to "the Hutch," says he considers it a huge coup—even with the hometown advantage. Buck was giving up a full professorship at Harvard to come to an institution where there's no tenure, and where every researcher gets the same amount of lab space regardless of reputation. "I mean, she could've had, probably, half a floor somewhere at this point," he says. But the absence of professional hierarchies was precisely what appealed to Buck. "No one has an empire here," says Groudine. "Everyone is treated equally. And so there's just a lot of interaction, a lot of collegiality, because no one's looking over their shoulder worrying that someone else is getting more than they are. I think Linda really liked that model."
Everyone who speaks of Buck speaks of her collegiality. Groudine sees it as something almost genetic—a byproduct of her innate curiosity. "She's one of these people who really tries to understand your work," he says. "Forget about the Nobel and the science," says Vitetta. "She's one of the most decent people you'll ever want to meet. She's never had an agenda of hurting anybody or stepping on anybody, and to me that's every bit as important as what she accomplished—that she didn't do it at anybody else's expense."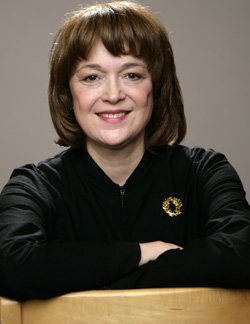 In early October 2004, the Hutch was looking for a couple of new faculty members and Buck was heading up the searches, which had drawn résumés from all over the world. So when a man with a Swedish accent called Groudine at 2 a.m. and said he was trying to reach Linda Buck, it seemed pretty clear what was up. Groudine asked the caller if he had any idea what time it was in the western United States, and assured him that this was no way to get a job at the Hutch. The man then explained that he was calling on behalf of the Nobel Prize committee. Groudine corrected himself: "Well, that is a good way to get a job here."

A few moments later, Buck received a similarly disorienting call. The next several weeks were a whirlwind of press conferences, interviews and champagne receptions, culminating in a trip to Stockholm for the prize ceremony in December. Buck is a rather private person, but she embraced this new public role because it gave her an opportunity to make the case for the kind of work she does. "I realized, when I got the phone call, that I would have a new set of responsibilities," she says, "having to do with communication with the public about the importance of basic science."

That importance isn't self-evident to everyone, Buck says. When speaking about her work, she's sometimes surprised to find herself on the defensive. "Even some science journalists have asked me what diseases this olfaction research might cure," she says. "I think a lot of people don't realize that basic science generates the sort of fundamental information that's required to understand things like disease processes and disease prevention. There's also a lot of cross-talk between fields, where research into the sense of taste might for some unexpected reason prove to be crucial to understanding, say, cancer."

Vitetta accompanied Buck to Stockholm, and marveled at how well her former student handled all the attention—the camera flashes, the relentless pressure to keep smiling. "I remember standing beside Linda when she was in the reception line," says Vitetta. "She and Richard were there shaking about six gazillion hands, and Linda turned to me and said, 'My pinky's going numb.' So I went and got her a glass of wine."

Although they're quite close in age, Vitetta says her feelings toward Buck are, perhaps inevitably, somewhat maternal, and that the news of the Nobel was a kind of turning point in her own life. "For most scientists, our currency is our own ego," she says. "We thrive on people reading our papers and quoting them and doing new experiments based on them. And suddenly, here I was, thriving on the success of someone I had helped train. And it was a different kind of success for me. It was the kind you feel when your child grows up to be healthy. And I don't know that I could've felt that 20 years ago, because I was too busy feeling about my own success."

Interestingly, Buck says something quite similar about winning the prize. For all the personal and professional satisfaction it brought her, the most intense pleasure she felt was vicarious.

"I kept hearing from family, friends, even old acquaintances," she says, "calling me up and telling me they'd heard the news and how happy it had made them for an entire day. And that was the best thing about it—that it made so many people I care about so happy."

• Eric McHenry is associate editor of Columns and author of the newly published poetry collection Potscrubber Lullabies.