June 2005 -

Distinguished Teaching Award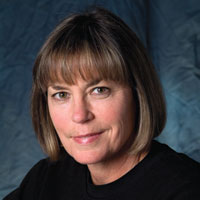 Julie Stein
Professor, Department of Anthropology
As a girl, Julie Stein used to dig in an empty lot and pretend to make important discoveries. In college, she discovered geology. "I thought explaining why you found the buried thing was even more fun than finding it. The more difficult the explanation, the better."
Now she's a professor and geo-archaeologist specializing in shell middens (prehistoric garbage heaps) who introduces students to the joys of getting dirty. Her fondness for archaeology has not dimmed since childhood, and she shares it with everyone she can.
It takes a certain type of person to enjoy shell middens. "You have to like the challenge of taking a complicated thing apart," Stein says, adding that she doesn't much care about the pyramids (they stick out of the ground) or classical Greek archaeology (too weird). But she's crazy about using the surrounding soil itself to help answer questions about artifacts and try to figure out how the objects ended up there. Not many scientists approach archaeology in this way, and students come from all over the country to take her classes.
"While Julie has proven herself to be a great researcher, her commitment to training archaeology students in geo-archaeology is her greatest strength," writes one of her former students, now a geo-archaeologist at the University of Illinois, Chicago. "She gets students involved in actual geo-archaeological projects."
Students work with real artifacts in Stein's classes. As a curator at the Burke Museum, she uses the collections to introduce students to the thrill of archaeology. They examine pieces, identify the artifacts and find out everything they can about them-how old they are, what they're made of, where they came from, what they were used for-just as professional archaeologists do. "Everybody likes to discover things," Stein explains. "If you let them discover it, they remember it."
Stein has done research on various shell middens in the Northwest, primarily in San Juan Island National Historical Park, where historic military encampments were built on top of Native American sites at least 2,000 years old. She ran a field school there with undergraduate students from 1984 to 1991, excavating the site and cataloging their findings.
Hundreds of visitors to the park would come by to watch, and Stein thought it was a shame they couldn't be included. So when King County asked her to excavate a shell midden on Vashon Island in 1996 she agreed, on the condition that the public be allowed to help. Working with amateurs "was one of the most difficult things I've ever done," she says, "but also one of the most successful."
In a four-hour session, volunteers would dig a small bucketful of the shell midden, screen it, separate shell and bone fragments from sand, and participate in a whole range of archaeological activities. In the process, they'd ask questions about why they were doing this and what could be learned from it. "That's where the real education took place. It was wonderful to realize that if you get people to do archaeology, they appreciate and learn so much more about it."
A few years ago Stein and some students set out to locate the site of Lewis and Clark's winter 1805 encampment in Oregon by looking for the one thing that would have had the most lasting effect-the privy. Soil samples from the spot should include mercury, used to cure syphilis among the crew, as well as high levels of phosphorous from the excrement. Stein hasn't found the spot yet, but hasn't given up. It's just the sort of complicated puzzle that she and her students enjoy mucking about in. -Beth Luce