June 2005 -

Distinguished Teaching Award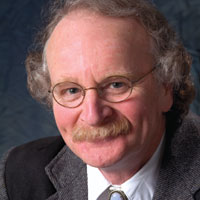 Michael Allen
Professor, UW Tacoma
Professor Mike Allen has a secret identity.
The problem is, it's not really a secret. Nearly everyone at UW Tacoma knows that Allen-a seemingly mild-mannered history professor in the interdisciplinary arts and sciences program-occasionally dons a blue sequined vest and black top hat to become Mike the Magician, purveyor of tricks that mystify and delight.
His act is popular at UWT events, where he twists long balloons into animals and pulls dollar coins from the ears of students. During magic shows, his energy brings a smile to everyone who watches-and in the classroom, that same energy sparks a hunger for history among his students.
It's a teaching style that Allen calls "lively." His students call it refreshing.
"Even though he has taught this subject time and time again, his enthusiasm for it is infectious, like a good storyteller who cannot wait to get to the really good parts of the tale," says Mark Dodson, a graduate student at UWT who took Allen's American history course. "His style of teaching made me fall in love with history again."
Allen, a native of Ellensburg, discovered early in life that he loved history. Disney movies from the 1950s-such as Davy Crockett-piqued his interest in the Old West and the American Revolution. Teaching history, he says, is really just a matter of telling stories.
"It's really an honor to be able to get up and tell stories for a living," he says. "All I do is tell stories. They all have a theme or a thesis, but they're stories."
Allen has a fascinating history himself, with experience ranging from fighting in Vietnam to working on Mississippi tugboats. A fan of the Ellensburg Rodeo, he founded the Ellensburg Rodeo Hall of Fame Association and hopes to establish a rodeo museum in Ellensburg. He wrote about rodeos in a recent book, Rodeo Cowboys in the North American Imagination, and has also authored books about Western history. His first book, Western Rivermen, 1763-1861: Ohio and Mississippi Boatmen and the Myth of the Alligator Horse, drew on his experience on the Mississippi River.
In 2004, he published the acclaimed A Patriot's History of the United States: From Columbus' Great Discovery to the War on Terror with co-author Larry Schweikart. He is currently working on books about the Confederation Congress and the Ellensburg Rodeo.
His other hobby, magic, takes him to children's shows, UWT events and other venues. He juggles, tumbles and performs simple tricks that are very popular with children-when they work. "I'm not a real great magician," he says. "I'm a comedy magician. My tricks aren't that good."
Allen says he, like other children, became interested in magic around age 9. He pursued it until he had mastered some tricks.
"Most kids go through a little magic phase, but I stuck with it," he says. "Actually, I wanted to be a magician before I decided to become a professor."-Jill Carnell Danseco