March 2004 -
FIRST TAKE
UW News from Across the Campus and Around the World
Hip-hop Scholars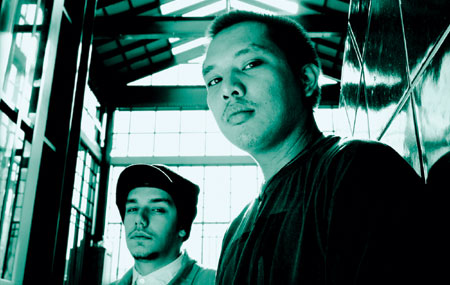 If the Blue Scholars had known that their self-released, self-titled debut was going to be named Best Album of 2004 by Seattle Weekly, they probably would've pressed more than a thousand copies. The hip-hop duo was caught completely off-guard by the attention their freshman effort received, which also included regular airplay on KEXP 90.3 FM. On June 21, they'll re-release the disc with four new tracks, slicker packaging, a lyrics booklet and a music video. The Scholars—emcee George "Geologic" Quibuyen and deejay Alexei Saba "Sabzi" Mohajerjasbi, '03—met at the UW, and started collaborating with the encouragement of their mutual friend Marc Matsui, '02, who now manages the act. Even if they go national, they seem likely to remain rooted in Seattle. Quibuyen's love for the city comes through again and again in his inventive lyrics. "The Ave," one of the new tracks on the re-release, is a paean to University Way: "The setting is several city blocks, off the 71 stop / I walk about the district distracted / By the decadent madness of all the undergrads and addicts / Club rats, heads, space cadets and pragmatics / One of the few places that they coexist on the planet.""
---
Hollywood VS. Hardwood
His dream of being a basketball star didn't pan out, so he settled for being a movie star. But Jim Caviezel, who recently played Jesus in Mel Gibson's The Passion of the Christ, never lost his passion for the game. In the mid-'90s, after leaving the UW to pursue his acting career, Caviezel could often be found in the gym at UCLA, where Lorenzo Romar was an assistant coach. "You'd see him around," says Romar, now head coach at the UW. "We'd play one on one sometimes." And on Feb. 22, Caviezel stopped by Hec Ed to wish the practicing Huskies good luck in their upcoming games. Romar was eager to reveal the visitor's identity to his players—especially point guard Nate Robinson, who had admired The Passion. "But Jim said, 'Don't say anything,' " Romar recalls. "Then he went out and started messing around with Nate, one on one, challenging him. And Nate scored on him. When Nate found out who it was, he was pretty excited."
---
DAWG GONE
The Dawg House has had its day. At the end of June, the beloved purveyor of purple sweatshirts and plush Huskies will close its doors for the last time. "I came to a crossroads," says Kim Williams, '93, who co-owns the store with her husband, Darren, '89, and has managed it since 2000. "I would either have to move the store to reduce our rent, or do something different. I decided it's time for me to move on." The original Dawg House was a dorm room. Darren started producing and selling T-shirts to fulfill one of the requirements for an entrepreneurship course. "It was basically a junior class project gone awry," Kim says. Sales were so brisk that Darren decided to rent a storefront on University Way. He moved the business one block south, to its current location, in 1990, just as the Husky football team was beginning its decade of dominance. The last few years, of course, have been leaner, and the basketball program's renaissance hasn't been enough to turn things around for the store. Football fans simply buy more stuff. "For basketball games, a T-shirt will do you," Kim says. Still, 17 years is a respectable run—and it's 119 in Dawg years.
---
"[The Iraqi elections were] an amazing triumph of non-violent resistance to the American invasion" - Noam Chomsky, MIT professor of linguistics and philosophy, speaking April 20 in Meany Theater as part of the UW Jessie and John Danz Lecture Series.
---
FAQ
The new Q Center, located in a recently remodeled space on the fourth floor of Schmitz Hall, serves as a resource for faculty, staff and students who are gay, lesbian, bisexual, trans, two-spirit, intersex or are questioning their sexuality. For information, visit depts.washington.edu/qcenter.
---